Mindrolling Jetsün Khandro Rinpoche Visits TBRC
August 08, 2015
When I was younger, I loved exploring my family's attic. I spent my winter Saturdays up in the dust, discovering treasures: my grandmother's gold ring, a small wooden drum, worn photographs of my parents, young and laughing. I'm older now, and still, when I visit my family, I find myself drawn back up to that place where so many memories live. Still, nothing pleases me more than finding something beautiful and bringing it out of the attic, into the light.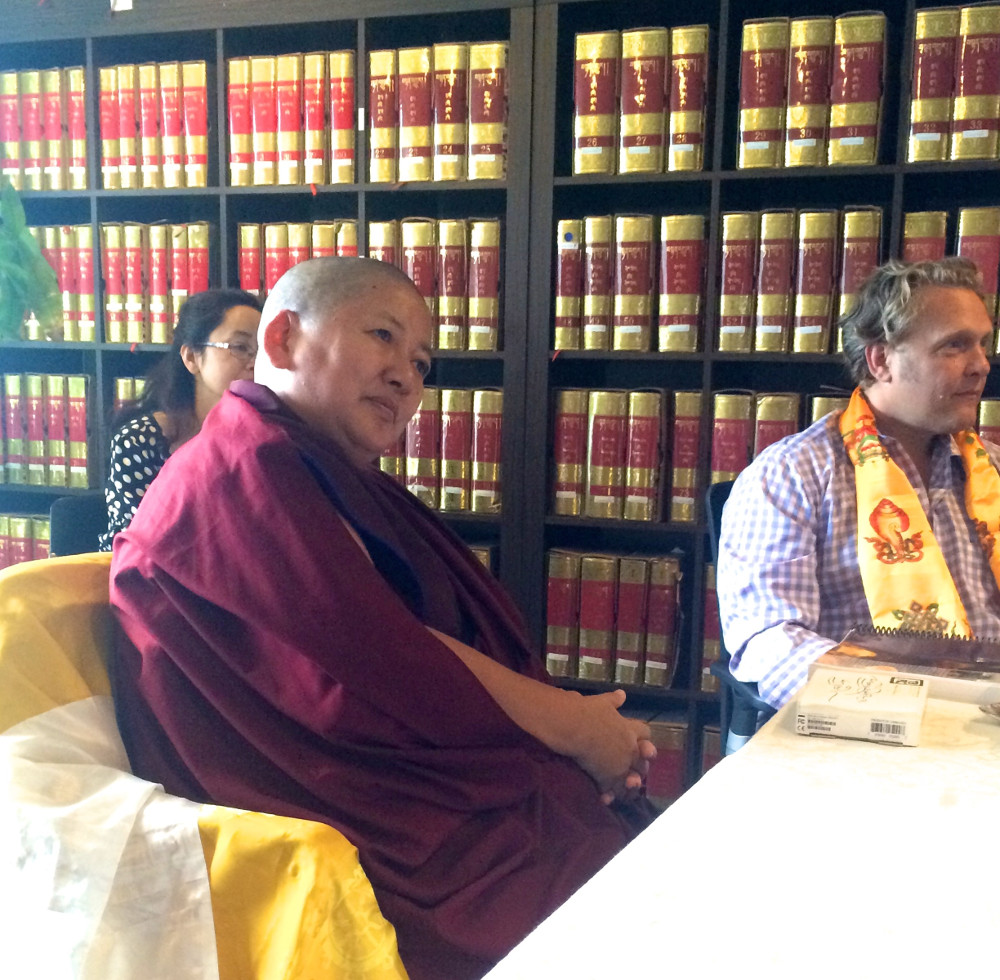 H.H. Khandro Rinpoche and Executive Director Jeff Wallman at TBRC
Khandro Rinpoche is renowned throughout the Tibetan world and beyond as a great female master. She is the eldest daughter of H.H. Mindrolling Trichen Rinpoche, the 11th throne holder of the Mindrolling Lineage.
Recognized as the reincarnation of the Dakini of Tshurphu, Khandro Orgyen Tsomo, the consort of the 15th Karmapa, Khandro Rinpoche has taught in Asia, the United States, and Europe, and is deeply committed to the study, translation, and preservation of the Dharma. In 1993, Rinpoche founded the Dharmashri Foundation, which focuses on archiving, translating, and distributing the precious teachings of the Mindrolling lineage. It was an honor for us to host Khandro Rinpoche at TBRC.
Before leaving the office at the end of her visit, Khandro Rinpoche wrote a message for TBRC, which reads, "With gratitude and great joy for the marvelous work done here at TBRC. For this vision and effort, our prayers and every good wishes. Many thanks and Tashi Deleg." The video below shows Rinpoche in our office as she crafts her kind message:
We all hope to greet H.H. Khandro Rinpoche again soon, and are grateful for her time, presence, and for her wonderful work to sustain the life of the Dharma. Thank you for everything Rinpoche!