Matthieu Ricard Visits TBRC
October 28, 2015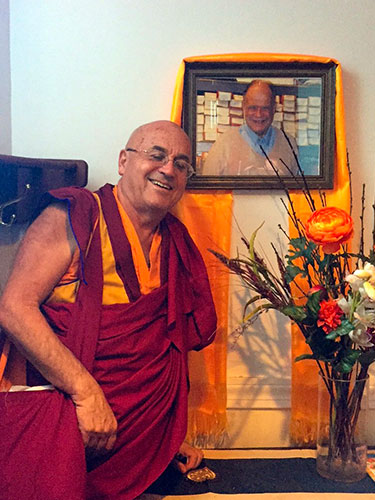 Matthieu poses next to a photo of an old friend, Gene Smith
Beloved Buddhist monk, scientist, photographer, author, and humanitarian Matthieu Ricard made time on Friday to visit the TBRC office, sharing stories, memories, and tea with TBRC staff. A longtime friend of TBRC founder Gene Smith, Matthieu was in the area to give a talk at Harvard University on his newly released book, Altruism: The Power of Compassion to Change Yourself and the World.
Matthieu has served as the French interpreter to the Dalai Lama since 1989, and works with the Mind and Life Institute to explore the effects on meditation on the brain. In 2010, Matthieu founded Karuna-Shechen, an organization serving communities in Tibet, India, Nepal, and Bhutan; all of the proceeds from Matthew's book sales go directly to Karuna-Shechen. His 2007 TED Talk, "The Habits of Happiness" has been viewed over five million times.
During the visit, TBRC staff offered Matthieu a hard drive containing the TBRC library, and gave him a tour of our Cambridge office. He shared with us his fond memories of Gene and the early days of TBRC, when he and Gene would pour over texts together on hot nights in Delhi, with the power flickering on and off intermittently. Matthieu spoke with equal brightness about the future of TBRC, leaning in as staff members described TBRC's success in scanning over one million pages of Tibetan text in this year alone. Upon our request, Matthieu kindly took the time to write an inscription for TBRC.
So happy – delighted! – to visit the new office of TBRC, which renewed my life long admiration and gratitude for the incredible works of our dear late friend E. G. Smith, and now all those who are working tirelessly and joyfully to preserve and spread the most precious heritage of Tibet's sacred texts for the benefit of whole humanity,
Gelong Konchog Tenzin (Matthieu Ricard)
23 Oct. 2015
Hosting Matthieu was a pleasure and delight for us all, and we hope he will visit us again soon. We have so much admiration for Matthieu, and for all of the work he continues to do to give compassion life, body, and meaning. Cher Matthieu, nous vous sommes très reconnaissants !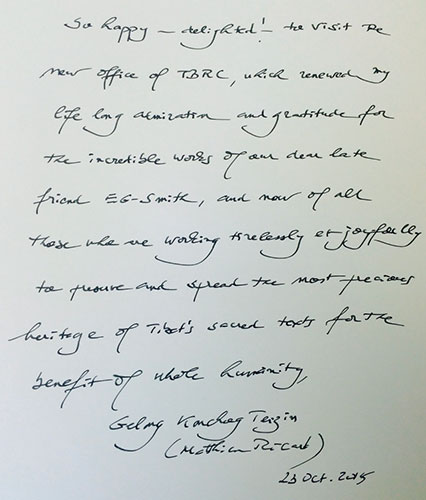 Matthieu begins writing his lovely note to TBRC, with the sun of Harvard Square
gleaming behind him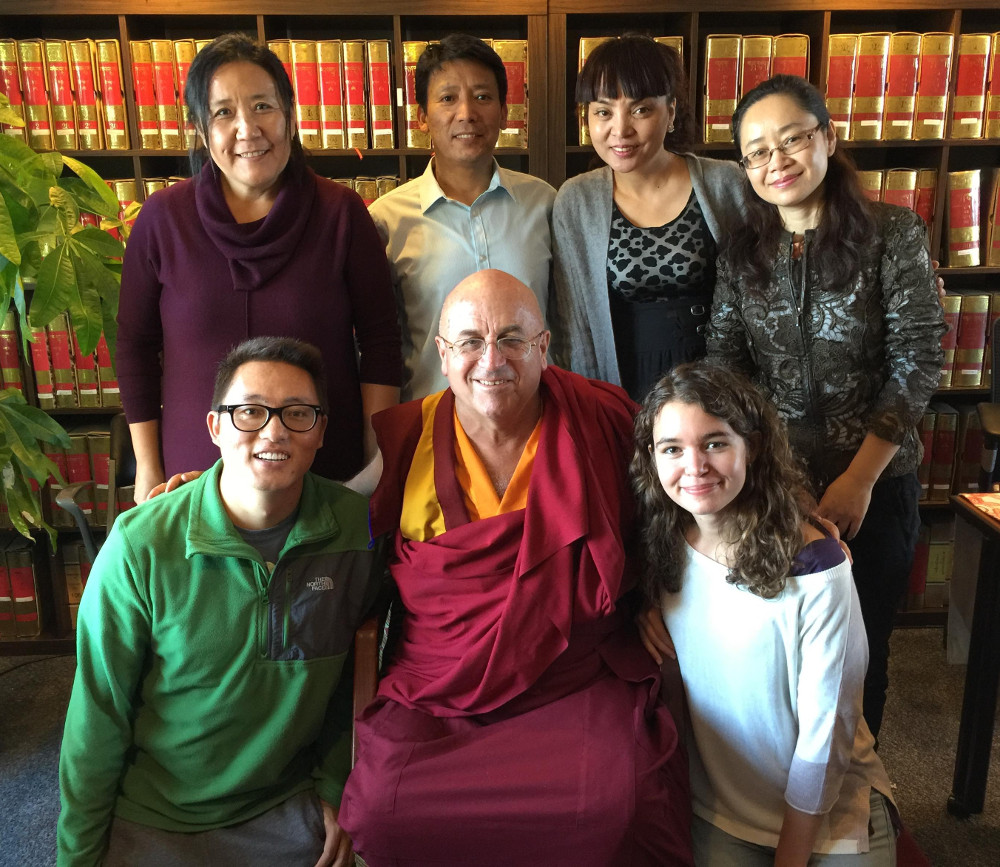 Matthieu Ricard and a handful of TBRC staff.
Thank you for visiting us Matthieu!