Kyabgön Phakchok Rinpoche Visits TBRC
March 21, 2016
During his time in the United States, Kyabgön Phakchok Rinpoche visited TBRC, touring our Cambridge office and discussing TBRC's work and mission with staff amongst the manuscripts in our library.
One of the throne-holders of the Riwoche Taklung Kagyu Lineage and a lineage holder of the Profound Treasures of Chokgyur Lingpa from the Nyingma School, Phakchok Rinpoche is renowned as a dynamic leader and a masterful teacher. While in Boston Phakchok Rinpoche gave a number of teaching, including a public talk at the Harvard Divinity School entitled, "Reflections on Mindfulness". The afternoon Rinpoche visited TBRC, he was accompanied by Lama Willa Miller, a longtime TBRC friend and supporter.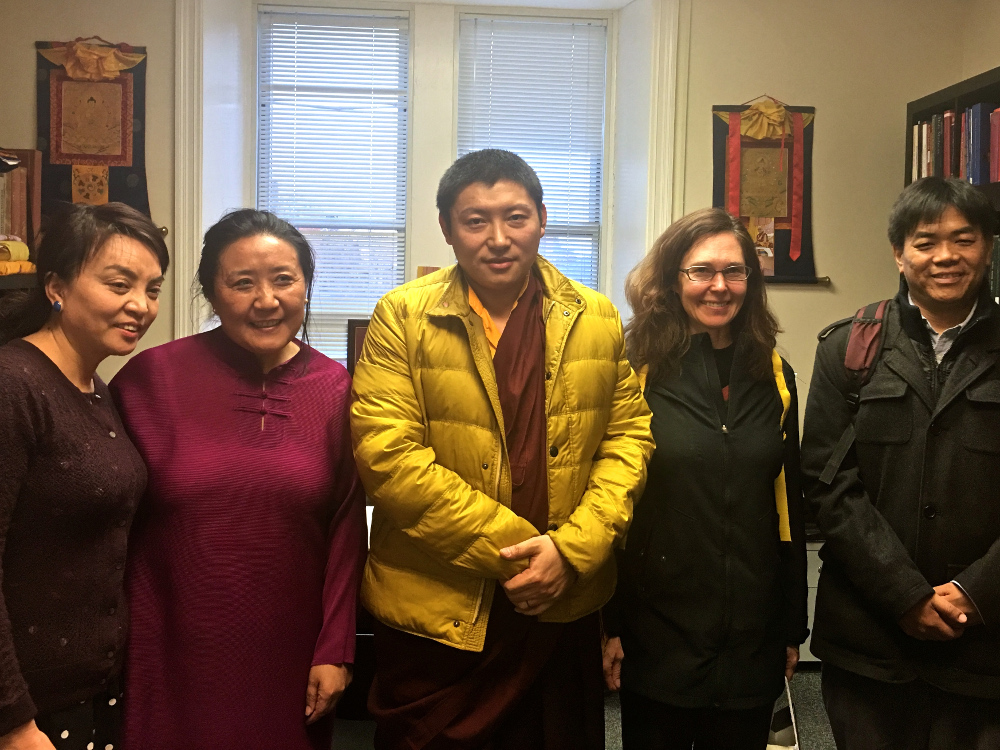 Rinpoche poses for a picture with TBRC staff and Lama Willa Miller
Phakchok Rinpoche teaches at dharma centers and universities across the world, and is known for his remarkably personable, skillful, and clear teaching style. Rinpoche is also involved in humanitarian work throughout South Asia, and has been particularly active following the 2015 Nepal Earthquake.
TBRC staff welcomed Rinpoche, answering his questions about TBRC's history over tea. He expressed his enthusiasm for TBRC's work, and requested hard copies of texts preserved by TBRC. The entire TBRC staff was pleased and honored Rinpoche took time out of his schedule to visit with us, and we hope to welcome him to our office again soon.