TBRC Board President Wins Prestigious Guggenheim Fellowship
April 13, 2016
We are thrilled to announce that TBRC Board President Leonard W.J. van der Kuijp has been awarded a 2016 Guggenheim Fellowship for his outstanding scholarship and contributions to the field of Religious studies.
Leonard's research to date has made an indelible mark on the field of Tibetan Studies. Throughout his career, he has published prolifically on a broad range on topics, including premodern Sino-Tibetan and Tibeto-Mongol political and religious relations, Tibetan intellectual history, and Indo-Tibetan Buddhist thought. As Professor of Tibetan and Himalayan Studies and chair of the Committee on Inner Asian and Altaic Studies at Harvard University, Leonard has provided an invaluable resource and a compassionate guide for his many students. In 1993, Leonard received the MacArthur Fellowship for "pioneering contributions to the study of Tibetan epistemology, biography and poetry."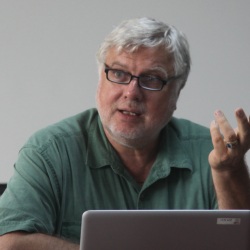 TBRC Board President Leonard W.J. van der Kuijp
Leonard has served as President of the TBRC Board since TBRC's inception. As Board President, Leonard works tirelessly to carry on the mission of TBRC Founder E. Gene Smith, with whom Leonard worked closely until Gene's Death in 2010. Throughout TBRC's history, Leonard has been a vital, passionate support, and we are grateful for him in more ways than we can name.
Congratulations to Leonard, our President, for this very well deserved achievement.