Venerable Khenchen Konchog Gyaltsen Rinpoche Visits TBRC
May 20, 2016
We were honored and pleased to host Venerable Khenchen Konchog Gyaltsen Rinpoche at TBRC this week. An accomplished scholar, teacher, and translator, Khenchen Rinpoche is the Great Abbot of the Drikung Kagyu Lineage of Tibetan Buddhism. A beloved teacher, a learned scholar, and a prolific author, Khenchen Rinpoche is to thank for the translation of a major corpus of Drikung Kagyu texts from Tibetan into English. He has established Centers throughout the United States and in Chile, and commits a substantial portion of his time traveling across the globe to offer teachings to his many students.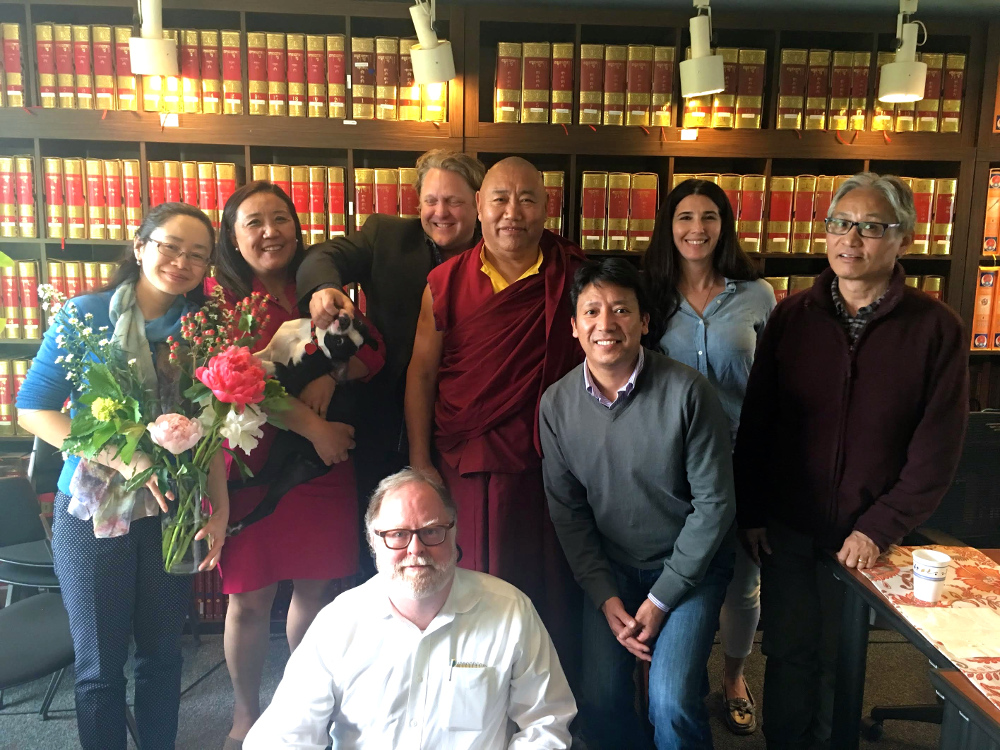 Rinpoche poses for a picture with TBRC staff
During his visit, Rinpoche toured the TBRC office, and joined staff for a discussion of the many uses of tbrc.org, the fecundity of TBRC's scanning work, and visions for the future of TBRC. Rinpoche fondly recollected meeting TBRC Founder E. Gene Smith on a previous trip to Boston; he recalled Gene's house as being entirely filled with volumes of Tibetan texts.
Before leaving, Rinpoche kindly offered a brief teaching to TBRC staff, and then posed for a photo with the group.
All of us at TBRC are inspired by Khenchen Rinpoche's scholarship, his teachings, and the great compassion he expresses and actualizes without hesitation. We hope we will have the honor of meeting him again in the near future.