Announcing Expanded BDRC Board of Directors
March 20, 2017
The BDRC Board of Directors crucially supports the strategic direction of BDRC. At this time of growth and expansion, we feel especially grateful for the support of our board members, many of whom have supported BDRC since Gene Smith's founding the organization as TBRC in 1999.
We are pleased to announce the addition of two new members to BDRC's Board of Directors: James Robson, of Harvard University, and D. Christian Lammerts, of Rutgers University. The knowledge and expertise of these two new members will vitally benefit BDRC as we develop our programs in East Asia and Southeast Asia.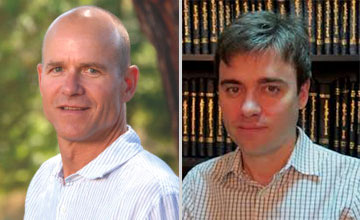 James Robson (left) and D. Christian Lammerts (right)
join the BDRC Board of Directors.
James Robson is Professor of East Asian Languages and Civilizations at Harvard University. Robson received his Ph.D. in Buddhist Studies from Stanford University in 2002, after many years conducting research in China, Taiwan, and Japan. His primary research interests include issues of sacred geography, local religious history, and Chan/Zen Buddhism.
Prior to joining the BDRC Board of Directors, Robson served as a member of the BDRC Advisory Board, providing guidance on the preservation of East Asian materials.
D. Christian Lammerts is Professor of Buddhist and Southeast Asian Studies at Rutgers University. He received his Ph.D. in Asian Religions from Cornell University in 2010. His research interests include Pali and Burmese literature and the History of Buddhism in early and pre-modern Burma and Southeast Asia. Professor Lammerts brings to the growing BDRC Board of Directors his expertise and knowledge surrounding Southeast Asian manuscript culture and preservation needs in Southeast Asia.
We are honored to welcome James Robson and D. Christian Lammerts to the BDRC Board of Directors, and know that their backgrounds and knowledge will be of critical value to BDRC in the coming months and years.