BDRC Board Selects Jann Ronis as New Executive Director
October 05, 2018
The Buddhist Digital Resource Center's Board of Directors has selected Jann Ronis to lead BDRC as its new Executive Director. Ronis is a scholar of Tibetan language and Buddhism and comes to BDRC from the University of California, Berkeley, where he was a lecturer in the Department of East Asian Languages and Culture. He received his M.A. and Ph.D from the University of Virginia, one of the major centers of Buddhist Studies in North America, and has been engaged in digital technology projects for nearly twenty years.
Ronis, who has now assumed full leadership responsibilities after a planned transition process, is returning to BDRC twelve years after being appointed to a research position by BDRC's founder, E. Gene Smith. In 2006, fresh from 18 months in Beijing and Kham on a Fulbright doctoral research grant, Ronis joined the Buddhist Digital Resource Center (known then as the Tibetan Buddhist Resource Center) as a scholar-in-residence. During Ronis's one-year residency, he worked closely with Smith on the first iteration of BDRC's outlines, which remain the primary template for BDRC's metadata.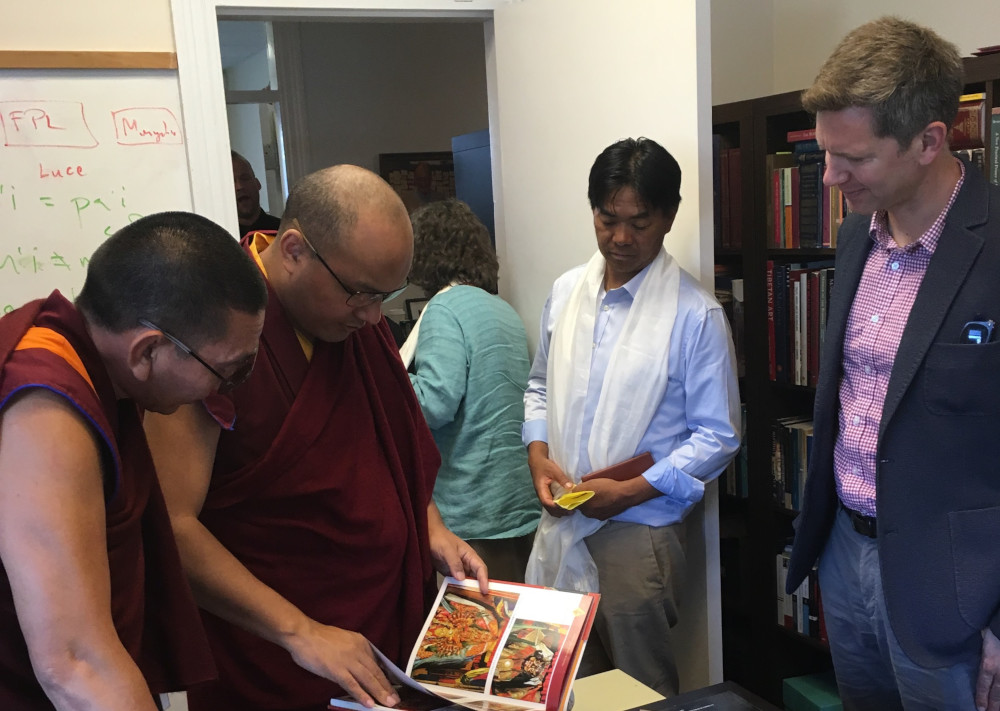 Jann Ronis (right) with His Holiness Gyalwang Karmapa at BDRC's office in Cambridge.
Photo by Travis DeTour.
With a connection to BDRC's roots and a deep commitment to its mission, Ronis now joins BDRC at a time of unparalleled vibrance in the organization's history. Since BDRC expanded its mission in 2015 to include the archiving of the literary heritage of all Buddhist traditions, BDRC has embarked on ambitious new technology and digitization projects. Those projects will transform BDRC into a truly pan-Buddhist resource with new scholarly tools and data. With Ronis's research expertise, vision, and scholarly guidance, BDRC will remain a key resource for Buddhist studies long into the future.
"The Board engaged in an extensive search, and I'm pleased we were able to find such a qualified scholar to assume leadership of BDRC," said BDRC's Board President Kurtis Schaeffer (University of Virginia). "Jann is fluent in both classical and spoken Tibetan, and has excellent Chinese language skills, a deep knowledge of the Buddhist textual tradition, and extensive research and teaching experience. I have no doubts that he will guide BDRC into a new and exciting chapter."
Ronis succeeds Jeff Wallman, who stepped down after 17 years of service and led BDRC through an expansion of its programs and mission.