Innovation in 2022: BDRC Marks a Milestone With Its New Website
January 14, 2022
On February 1, 2022, our old library website at tbrc.org will go offline and our new library website at the Buddhist Digital Archives will become the sole gateway into our extensive digital archive. BUDA, the result of years of effort and innovation, unifies the diverse array of Buddhist texts in our library on a single platform. 
With a sophisticated image viewer and advanced search, the BUDA platform uses open data standards to bring you Buddhist texts from our library and those of our partners. As we recognize and celebrate the historic nature of this transition, we want to take a look back at our humble beginnings, to make sense of how far we have come, and the road still ahead of us. 
After a recent BUDA demonstration given to members of BDRC's Board of Advisors, Burkhard Quessel, Tibetan librarian of The British Library wrote to us:
"I just wanted to say how impressed I am by the development of BUDA. With the addition of advanced features like faceted search it has a...mindblowing richness of resources. It is truly great."
The History of Our Library Site
In the beginning was the database. Launched online in 1999, when our founder Gene Smith still worked out of his apartment in Somerville, Massachusetts, this most basic database was a simple but searchable catalogue of author names and work titles. It was still a blessing for users, and a vast improvement over what was then available, as the site used standard Wylie Tibetan transliteration and included many unpublished works that even collections such as the Library of Congress did not have. 
By 2001, users of tbrc.org could search the database by author name, work title, lineage name and subject. Over the years, what we offered users kept improving and expanding. By the end of 2006, the database was upgraded to allow cataloging by multiple users, allowing Gene to start building our Librarian Corps.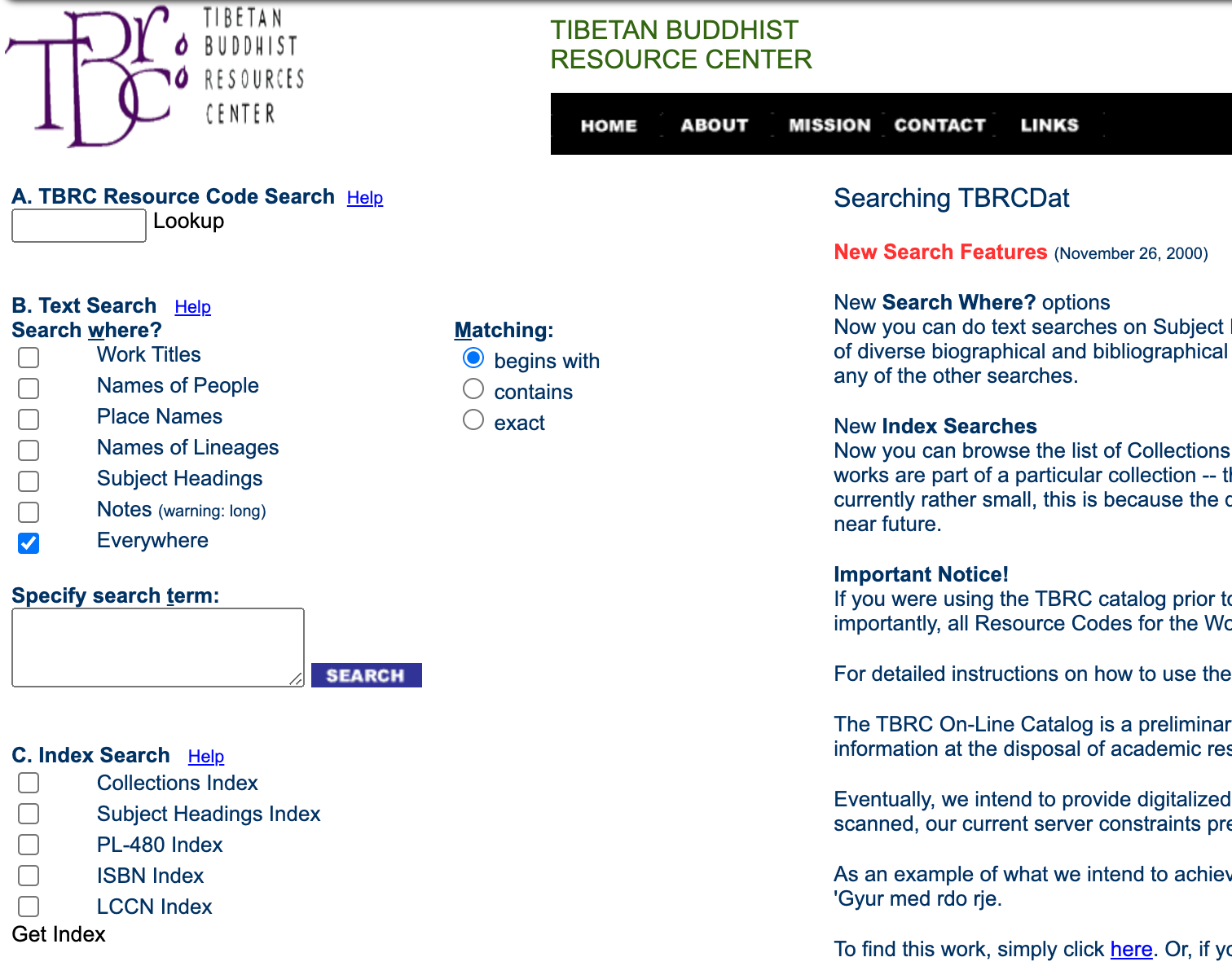 How the site looked in February 2001.
2006 also saw the creation of the beloved TBRC outline, the detailed table of contents created with careful expertise by Tibetan librarians. These outlines were a boon to lamas and researchers, who no longer needed to comb through whole volumes to find what they were looking for. As our librarian Kelsang Lhamo says, "Nobody else has such detailed and authoritative catalogs, not even the Library of Congress."
As informative as the database was, it was not yet merged with the archive of scans, which was itself incomplete at the time. Most of the texts in the database had not yet been scanned, and for those texts that had, users needed to order a physical CD-ROM of texts for a nominal fee, which the library staff would then send in the mail. Some of our users may fondly remember those days, and be very thankful for the online archive!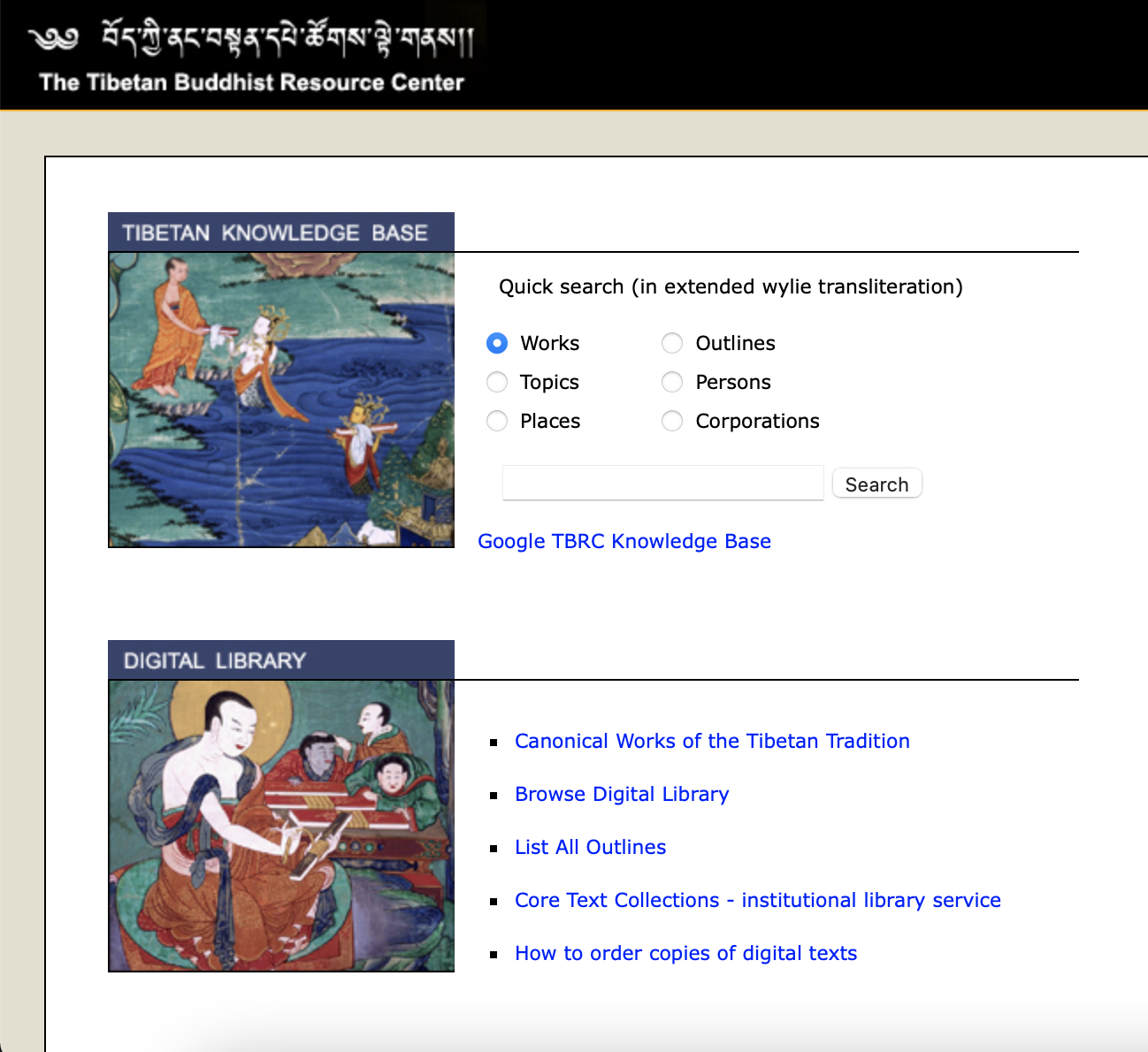 In 2008, the database was not yet merged with the digital archive which was itself very incomplete at the time.
Then in 2010 came a major overhaul of the site, including an image viewer, which transformed the database into an actual online library where readers could open scanned images and read the texts. Recents developments in Tibetan Unicode were more fully implemented in this iteration of tbrc.org so that searches could be written in Tibetan script and all of the Wylie metadata could be displayed in Tibetan.
In 2015, as the Tibetan Buddhist Resource Center became the Buddhist Digital Resource Center, it became clear that the expanded mission needed an expanded library site that was capable of providing texts from multiple traditions, in multiple languages, and creating links between them and external resources. The BUDA site has been a work in progress over the last few years, generously supported by a grant from The Robert H.N. Ho Family Foundation.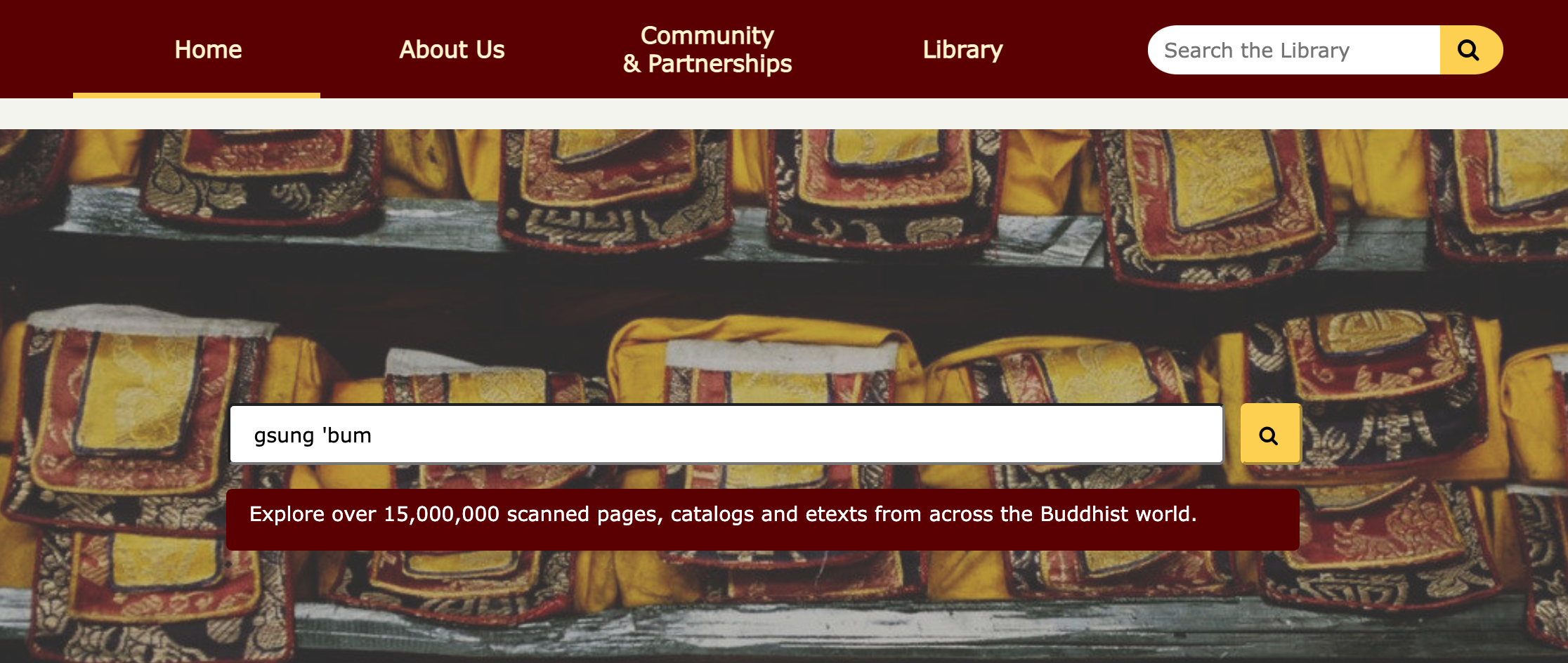 Our library site in 2020. Tbrc.org will be retired on February 1, 2022.
Please celebrate the result with us—BUDA, our next generation archival platform. Your expanded resources include open access to Buddhist works in Tibetan, Sanskrit, Chinese and Pali, as well as Burmese, Khmer, and Newari. Built for both the practitioner and the researcher, BUDA will provide you with a rich universe of texts to support your Buddhist studies.
If you haven't already registered for a free account on BUDA, please do so now. 
Thank you for sharing this journey with us.