New Photo Book Celebrates Gene Smith's Life and Legacy
November 15, 2022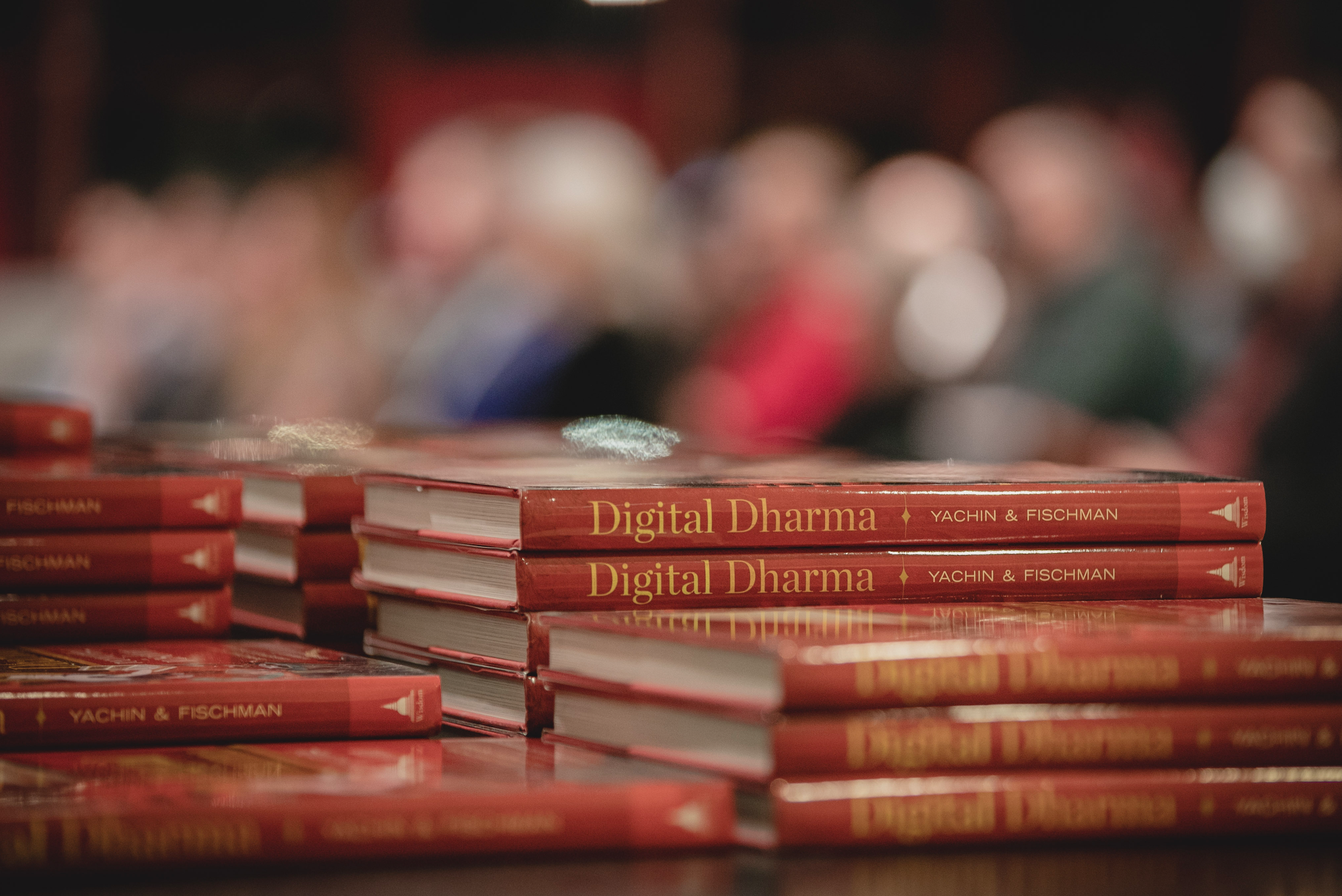 Digital Dharma: Recovering Wisdom book launch in New York City on November 1. All event photography was by Tenzin Tsetan Choklay.
On Tuesday, November 1, friends and supporters of the Buddhist Digital Resource Center (BDRC) gathered together in New York City to celebrate the publication of a beautiful photography book called Digital Dharma: Recovering Wisdom. Published by Wisdom Publications, this book is a tribute to our founder, the legendary scholar Gene Smith (1936-2010), and his lifelong mission of preserving Tibetan Buddhism.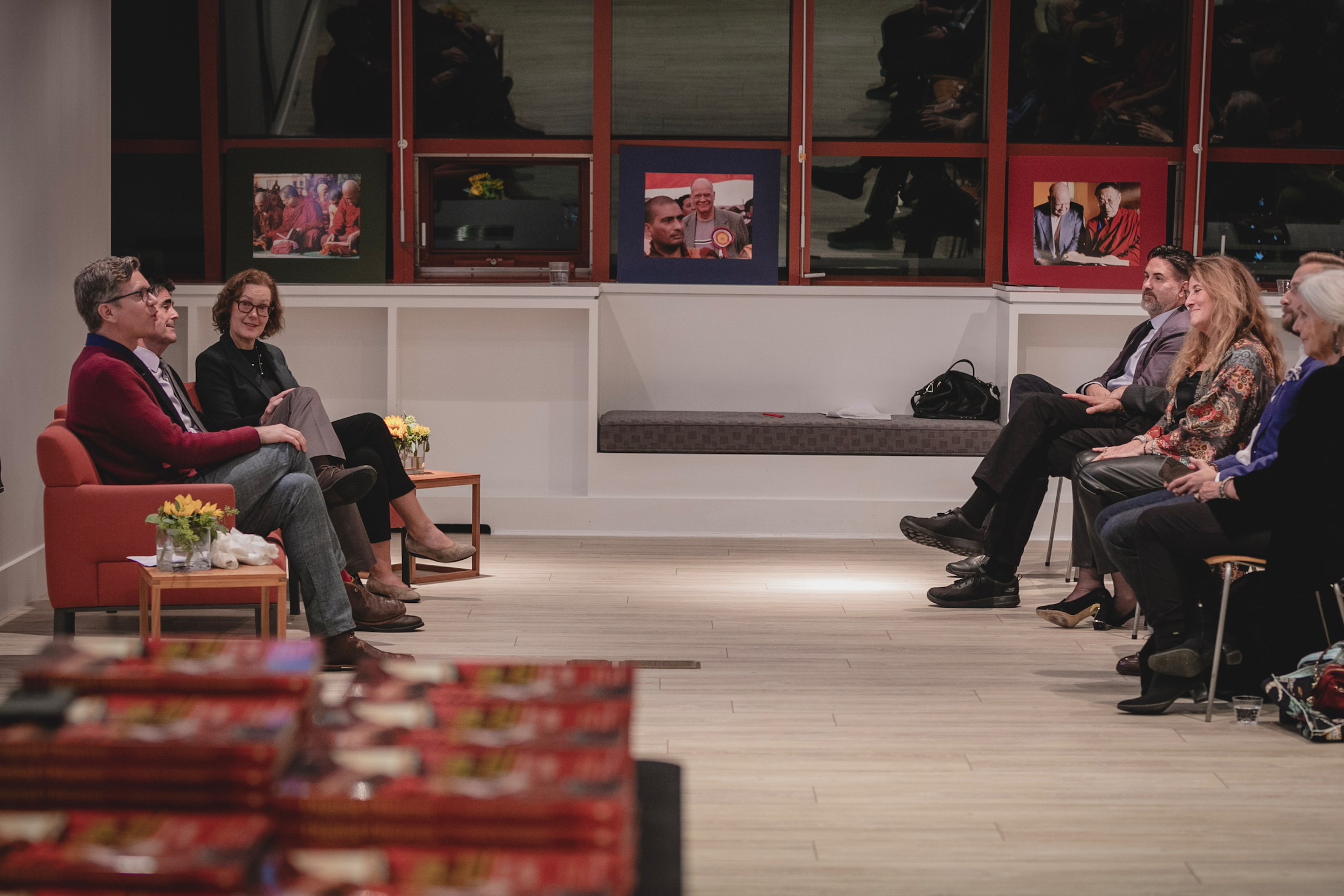 BDRC Executive Director Jann Ronis, former Wisdom CEO and TBRC/BDRC co-founder Tim McNeill, and Professor Annabella Pitkin of Lehigh University have a conversation about Gene's life and legacy.
By authors Dafna Yachin (director of the documentary film, Digital Dharma) and Arthur Fischman in collaboration with BDRC, Digital Dharma: Recovering Wisdom tells the story of the international rescue effort to preserve Tibetan Buddhist literature, and captures the trips Gene made to Asia to carry out this mission. It's filled with hundreds of gorgeous photographs of India and Nepal, scenes of Gene in action at monasteries with lamas, and contributions from Dzongsar Khyentse Rinpoche, Matthieu Ricard, and Leonard van der Kuijp.
We are so grateful to Wisdom Publications and its CEO and Publisher Daniel Aitken for a wonderful book launch. We were lucky to have a panel consisting of former Wisdom CEO and BDRC (then TBRC for Tibetan Buddhist Resource Center) co-founder Tim McNeill, Professor Annabella Pitkin of Lehigh University, and our Executive Director Jann Ronis.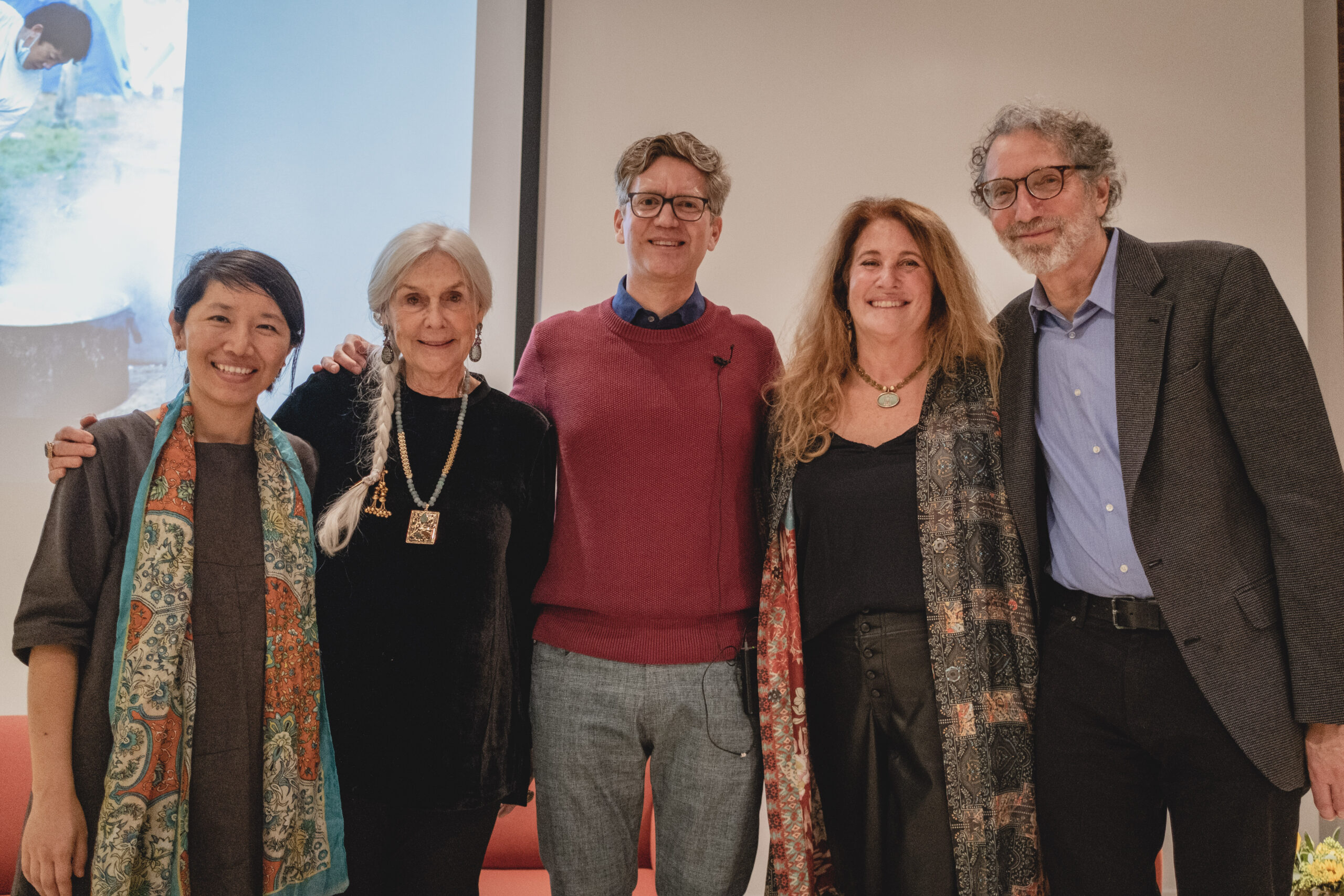 The Digital Dharma book team: Tenzin Dickie, Patricia Gruber, and Jann Ronis with authors Dafna Yachin and Arthur Fischman. It is thanks to Dafna and Art's genius and commitment, and Patricia Gruber's vision and generosity, that we have this beautiful book in our hands.
The evening started with brief remarks from Daniel Aitken and Jann Ronis. Then authors Arthur Fischman and Dafna Yachin both spoke about why they started this project, why it drew them in so deeply, and their experience on the long journey to publication.
After the book presentation, the evening moved into a conversation and panel discussion. Tim McNeill spoke about the brilliant and benevolent Gene that he knew, and Gene's impact and stature among the scholarly community. He spoke about Gene's famous prefaces to PL-480 texts which were passed from researcher to researcher for several decades until Wisdom finally published them in Among Tibetan Texts. His long personal friendship with Gene and his experience working with Gene during the early days of TBRC gave everyone a new understanding of Gene's generosity and legacy. Tim also spoke movingly of Gene's death, which happened the night before a board meeting. As he said, "Among the many manifestations of his higher realization was the fact that the night that he died—he had just returned from a trip to India—it was a Thursday night, and we had a board meeting scheduled that Friday morning, so the board was all assembled." They all had a chance to see him one last time, to say goodbye to their dear friend, and to plan in person for what came next for the organization.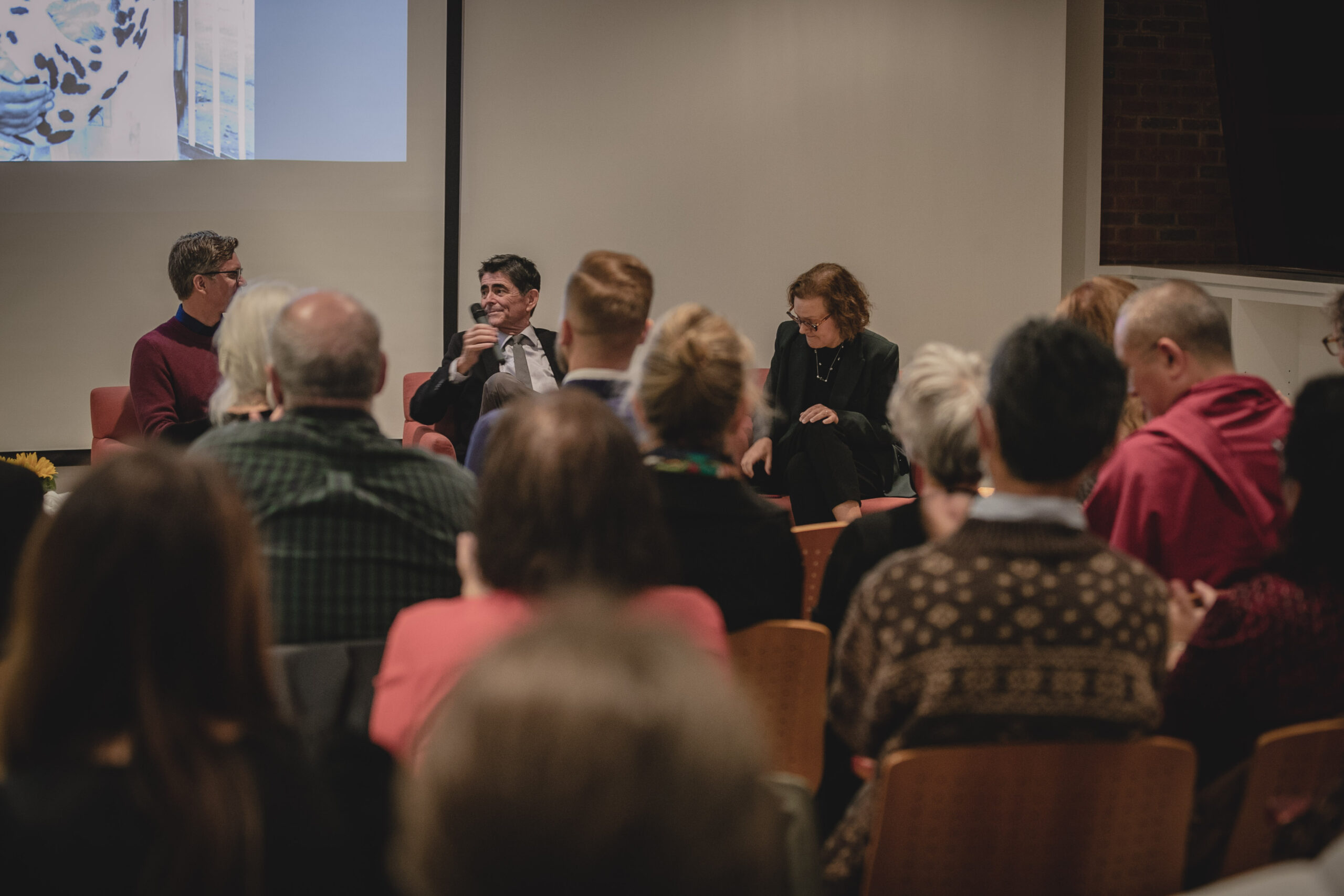 Jann Ronis, Tim McNeill, and Annabella Pitkin tell stories of Gene.
Professor Anabella Pitkin of Lehigh University was among the generation of scholars that Gene mentored and helped, both personally through his generosity with his boundless knowledge as well as his dazzling list of contacts and connections. Annabella gave an example of Gene's network, knowledge and kindness; when asked about a particular figure, he would say to her, "Did you know that her great aunt was once married to his seventh cousin and they lived together in the late 19th century in Kalimpong, but then they also had a relationship with this other community that had connections to Ladakh, and their cousins actually live just across town and I know their best friend and her sister in law and I will introduce you!" 
Gene provided not only key connections but also key texts for Annabella's dissertation on Khunu Lama. This dissertation not only secured her a PhD from Columbia University but was was recently published as Renunciation and Longing: The Life of a Twentieth-Century Himalayan Buddhist Saint. Gene's help was instrumental to her book, as it was to so many scholars. She said, when that faraway look came into Gene's eyes, she knew he was writing her book in his head, and that he could easily have written 17 different versions of it.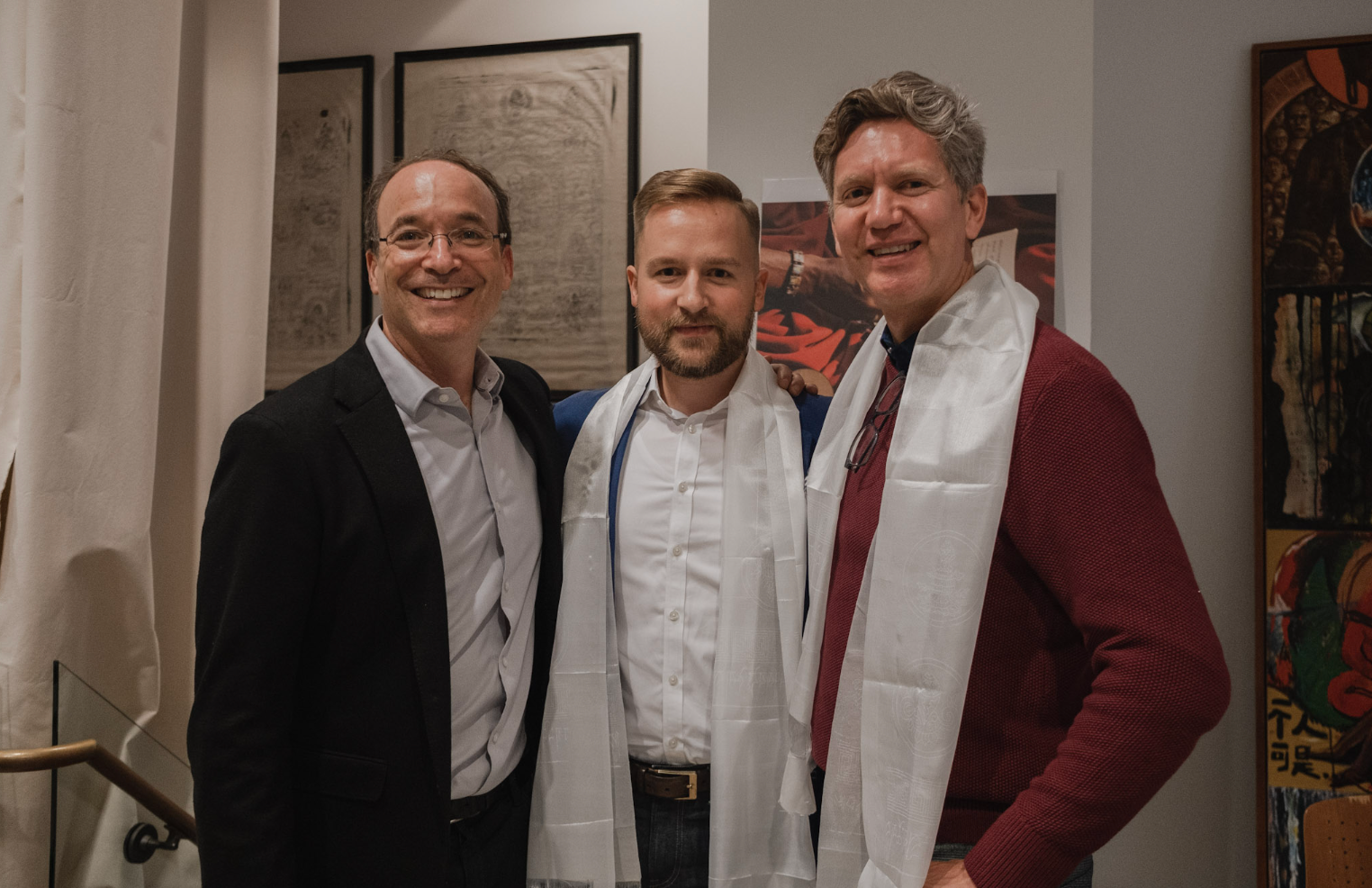 We were honored that Gene's great nephew Gary Crofts could be with us that evening to represent the family. Gary with Andy Quintman and Jann Ronis.
Our Executive Director Dr. Jann Ronis gave a primer on BDRC's on-going preservation activities and looked forward to its bright future. He also discussed BDRC's new directions and its growing data-sharing partnerships. He emphasized that BDRC continues to actively carry out Gene's mission. 
The President of BDRC's Board of Directors Professor Andy Quintman reminded us of the Buddhist principle of interdependence, and called on friends and supporters to keep supporting Gene's mission so that BDRC can continue to preserve and share Buddhist literature for all time.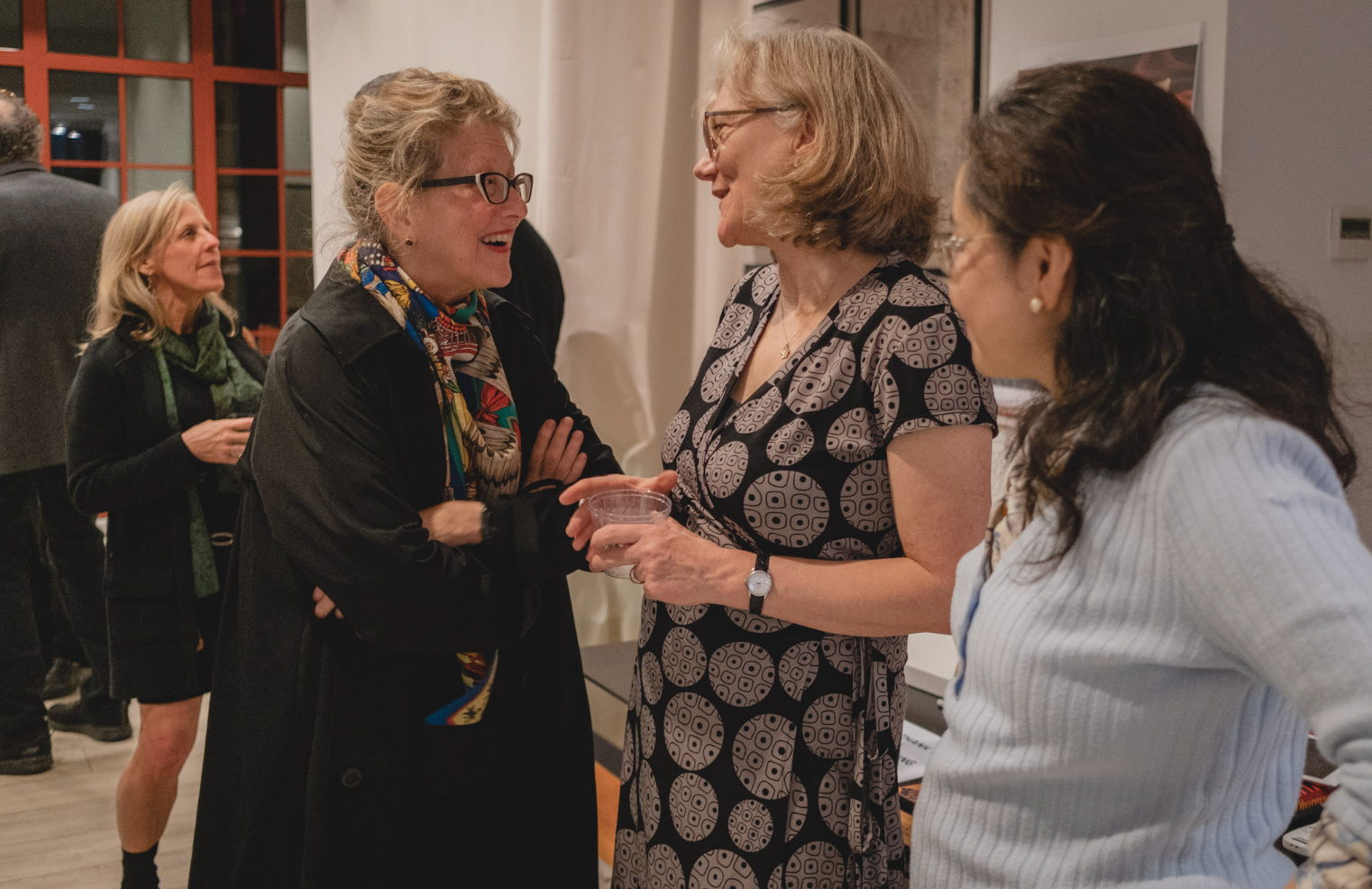 Lisa Schubert congratulating Catherine Platt, BDRC's Director of Development and Communications, and Dechen Pema, Director of Administration, on a successful Digital Dharma book launch.
We are so grateful to Wisdom Publications and Here Now Space for hosting us in their beautiful offices in the West Village. 
DIGITAL DHARMA: RECOVERING WISDOM IS AVAILABLE FOR ORDER FROM WISDOM PUBLICATIONS. WE THANK WISDOM FOR SHARING A PORTION OF THE PROCEEDS WITH BDRC. PLEASE BUY THE BOOK TO KEEP GENE'S VISION ALIVE.