Digital Dharma at the Library of Congress
April 27, 2023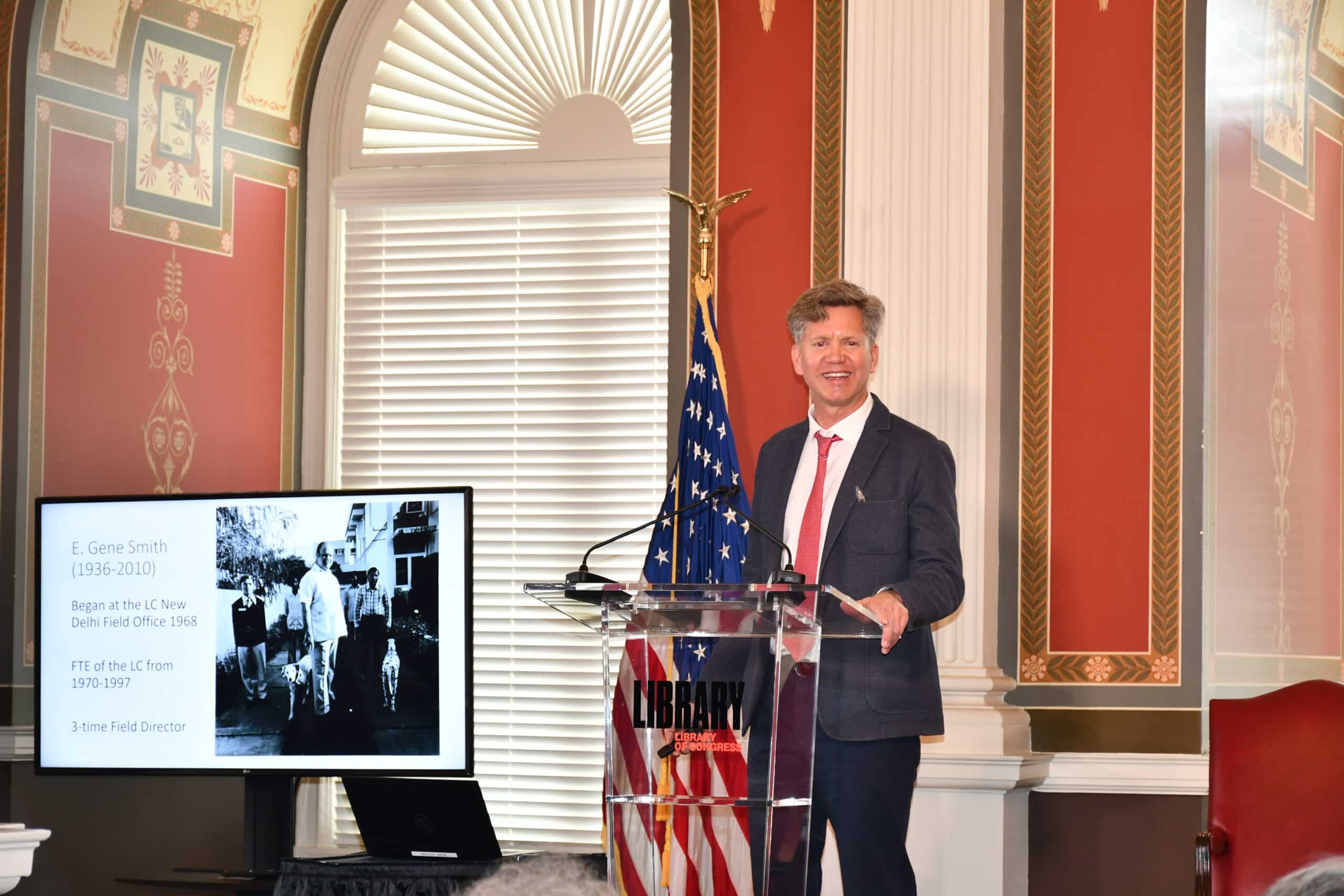 Dr. Jann Ronis speaking at the Library of Congress, in the Thomas Jefferson building. Photo by LOC's Tien Doan. 
Our Executive Director Dr. Jann Ronis gave a book talk at the U.S. Library of Congress on Friday, March 31st. Dr. Ronis presented the Gene Smith photography book "Digital Dharma: Recovering Wisdom," and spoke about Gene Smith and his organization's Buddhist digital preservation as well as innovations and technologies for Buddhist digital humanities for the future.
Jann spoke of how Gene Smith, our founder and the greatest American Tibetologist of our time, was first and foremost a bibliophile. Because Gene Smith spent his whole career at the Library of Congress, starting out as a local field staff in New Delhi and rising to become field director, it was a special delight to present this book at the Library, and in some ways to bring Gene back home. In fact, Susan Meinheit, the Tibetan and Mongolian Librarian at the LOC who organized this talk, was herself mentored by Gene.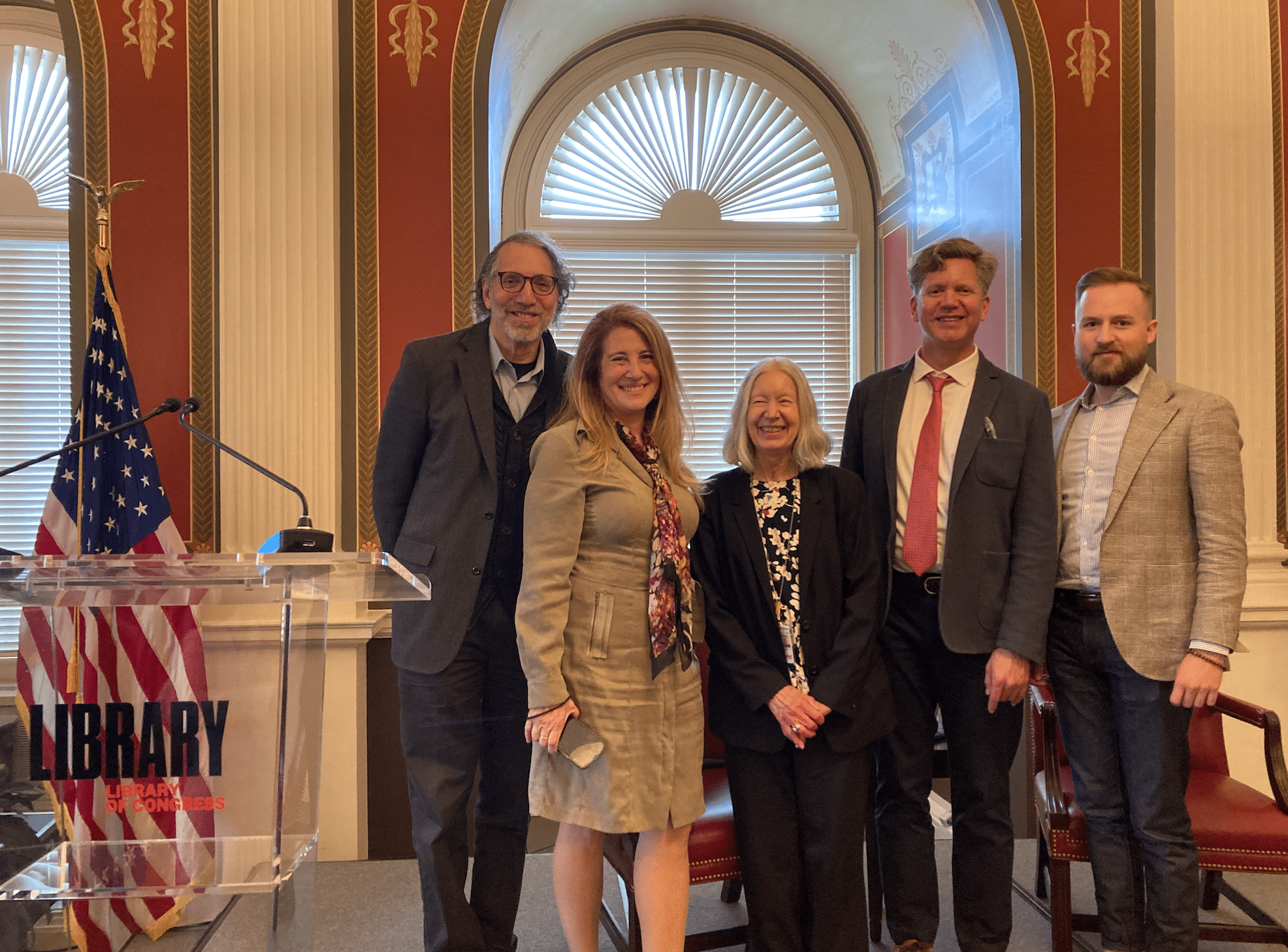 Digital Dharma co-authors Arthur Fischman and Dafna Yachin, with LOC Librarian Susan Meinheit, Jann Ronis and Gene Smith's grand-nephew Gary Crofts.
Jann Ronis showed a letter from the Librarian of Congress James H. Billingon to Gene Smith, on the event of Gene's retirement from LOC, that showed how much the Library valued Gene for his contributions. James Billingon wrote:
"You have been a model field director with the Library's overseas program, combining the intellectual acumen of a scholar, the natural talents of a gifted administrator, and the commitment of a dedicated public servant in your service to the Library that has extended more than two decades."
Gene Smith's career at the Library provided the springboard for his second career as pioneering preservationist of Tibetan Buddhist literature. His efforts to secure, preserve and digitize endangered Tibetan literature by the thousands not only helped to secure the texts for a living culture, but also laid the foundation for Tibetan Studies in the United States.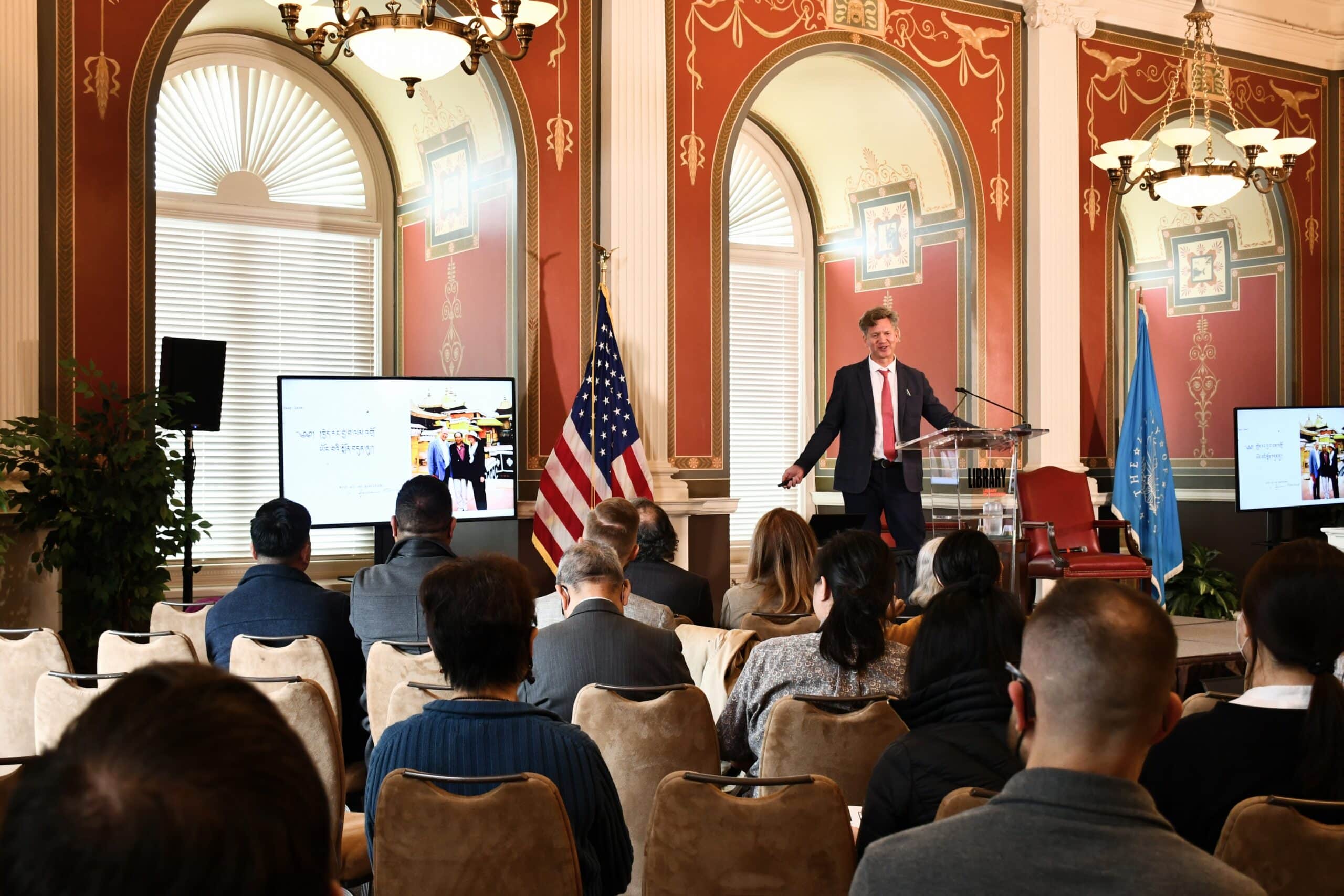 Jann spoke about Gene Smith and his organization's Buddhist digital preservation as well as innovations and technologies for Buddhist digital humanities for the future. Photo by Tien Doan.
The Tibetan Buddhist Resource Center continues to prioritize Tibetan literature, but it has now expanded beyond its original scope to become the Buddhist Digital Resource Center, applying the TBRC treatment to all the endangered Buddhist literatures of Asia. 
Dr. Ronis gave an overview of BDRC's new preservation projects including the Fragile Palm Leaves digitization project in Thailand, the Khmer Manuscript Digitization project in Cambodia, and the National Library of Mongolia digitization project in Ulaan Baataar. He also discussed our new technological achievements including the creation of thousands of e-texts using Google Cloud Vision for optical character recognition, and adding value to e-text corpus by partnering with leading Tibetan IT and lexicography project Monlam IT.
With partners and collaborators, we are working towards machine translation of Tibetan language, advanced processing of e-texts and data, and a deeper integration of the Tibetan and Chinese canons.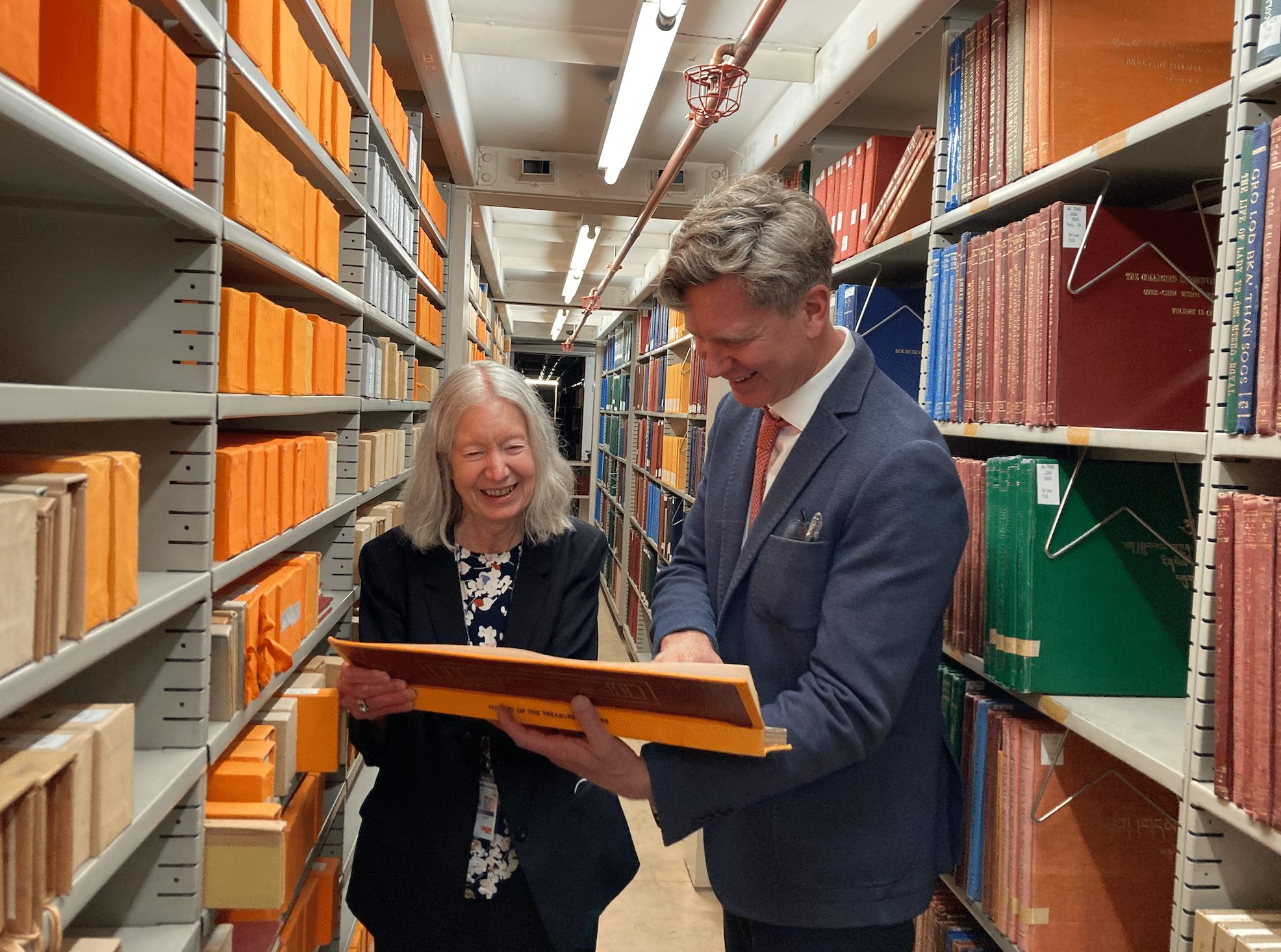 Susan Meinheit and Jann Ronis in the Tibetan stacks at the Library of Congress. Many of the books here are texts that Gene Smith collected during his tenure at the Library of Congress branch office in New Delhi.
In attendance was Gene's great nephew Gary Crofts and Digital Dharma co-authors Dafna Yachin and Arthur Fischman, as well as Representative Namgyal Choedup from the Office of Tibet, DC. 
We are so grateful to the Library of Congress and its fantastic Tibetan and Mongolian Librarian Susan Meinheit and the entire Asian Division, including Tien Doan and other wonderful staff.