Announcing the Fragile Palm Leaves Digitization Project
March 27, 2017
BDRC is pleased to announce the Fragile Palm Leaves Digitization Project. This vital project is made possible by the gracious funding support of the Khyentse Foundation. This marks BDRC's first major effort to digitize and make accessible texts in Pali and other Southeast Asian languages.
In collaboration with Fragile Palm Leaves Foundation Founder, Peter Skilling, BDRC has set up two production digital preservation systems to digitize the collection in a multi-year program. Once digitized, BDRC will make this material available in its newly developed public digital library. All digitized materials and associated metadata records will be stored for long-term preservation through BDRC's partnership with the Harvard University Digital Repository Services.
The Fragile Palm Leaves collection consists primarily of palm leaf texts in Pali as well as other Southeast Asian languages, including Burmese, Shan, Tai Khun, Tai Lue, and Mon. Other materials in the collection include paper books, stiffened cloth and wood blocks, as well as manuscript chests and woven ribbons (called sarsekyo, used for binding the loose leaf texts into bundles). The collection includes an estimated 7,000 Burmese-style palm-leaf manuscripts, and another 7,000 bundles of Khun-style palm-leaf manuscripts, plus some thousands more paper manuscripts in various formats, as well as Xeroxes of some hundreds of manuscripts, all of which are to be digitized. There are an estimated 22,000 manuscripts in the library.

The Fragile Palm Leaves Digitization Team,
and a sample of documents
The project is undertaken with the guiding support of the BDRC established the Fragile Palm Leaves Scholarly Advisors Committee. Headed by Peter Skilling, the committee is composed of academics committed to the FPL Digitization Project. The committee includes Christian Lammerts of Rutgers University, Alexey Kirchenko of Moscow State University, Mark Allon of the University of Sydney, and Naomi Appleton of the University of Edinburgh. The committee will advise on cataloging the collection and form a collaborative network for additional collections of Burmese and Thai Buddhist manuscripts relevant to the BUDA and FPL.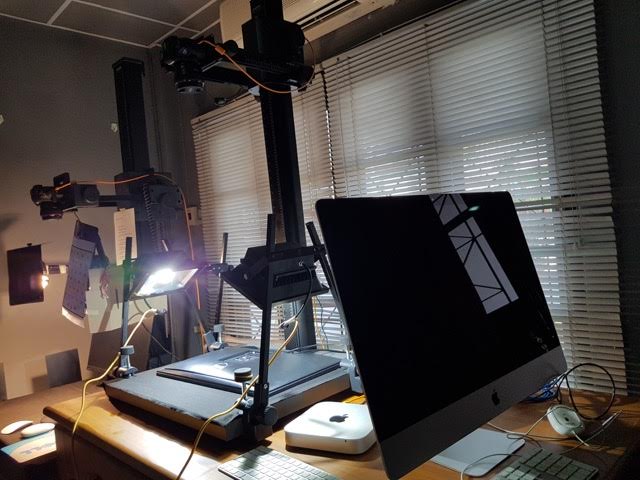 The second scanning station,
recently installed in BDRC's Bangkok office
So far, BDRC has succeeded in scanning and processing 52,250 pages of material. As of March of 2017, BDRC has installed a second scanning station to the Bangkok office, proving the opportunity for Fragile Palm Leaves materials to be preserved and made accessible at an even greater rate. We look forward to continuing to preserve and make accessible this invaluable collections, as well as other vulnerable collections of Southeast Asian materials, in the coming months and years.