An Introduction to BDRC's Librarians
November 02, 2020
Librarians are tour-guides for all of knowledge.
—Patrick Ness
Tibetan texts can be tricky to work with. Publication information is often missing or unstandardized, with some works lacking titles entirely while others have author information buried in the colophon. That's why BDRC has expert librarians with the specialized knowledge needed to catalog these challenging works. When our librarians catalogue a work, they uncover hidden connections between texts and clarify the historical context for a particular text. The metadata created by BDRC librarians during cataloging answers questions such as: Who published the text? Who authored it? When did they live? What institutions were they affiliated with? What was their kinship network? 
Our librarians also create a valuable research aid we call an Outline, which is a detailed table of contents that not only identifies the many individual titles of texts contained within a single Tibetan work but also topics within the individual titles. As BDRC's longest-serving staff members, each librarian was handpicked by our founder Gene Smith for their knowledge and subject matter expertise.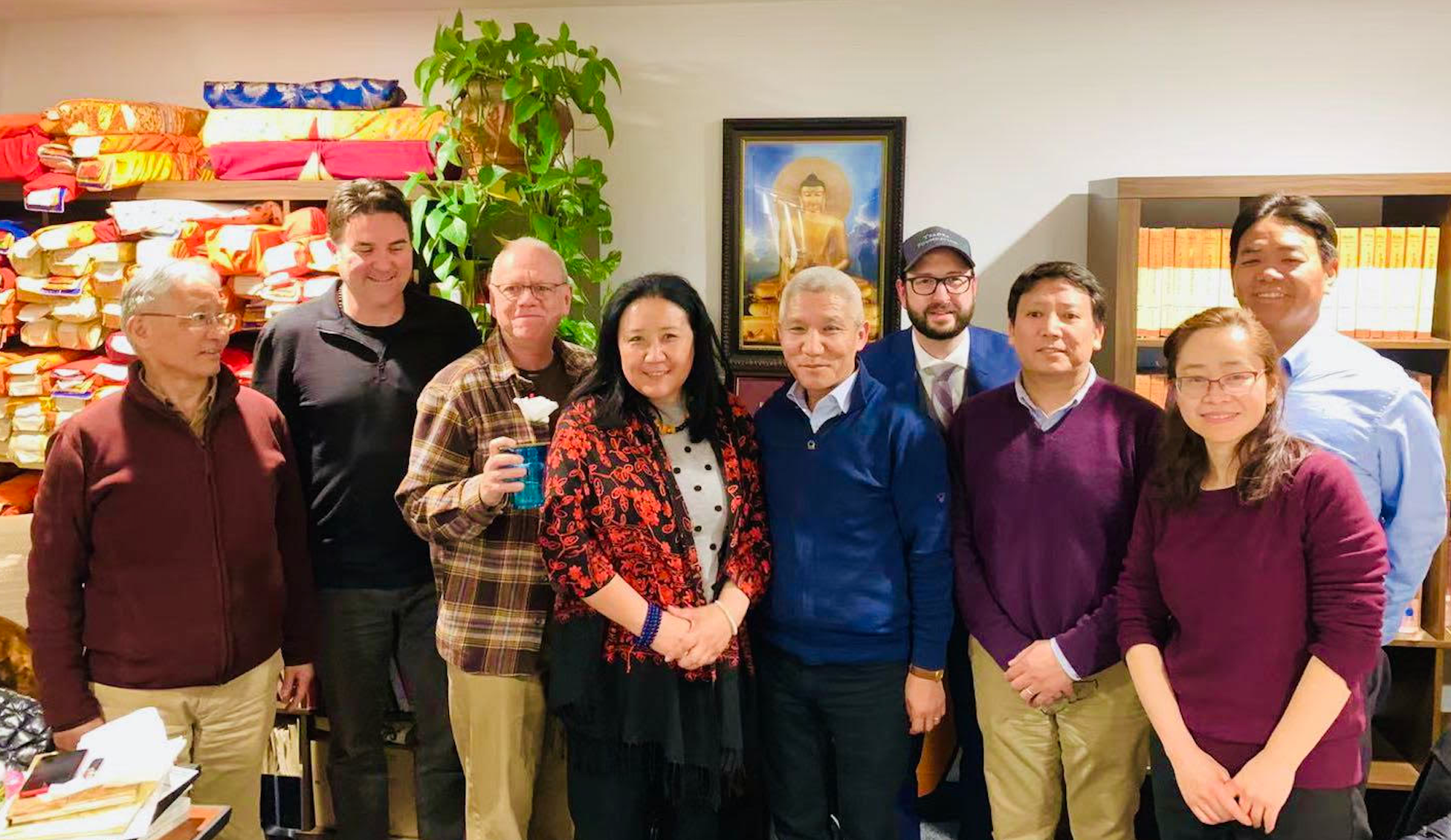 From left to right: Lobsang Shastri, Daniel Aitken (Wisdom Publications & BDRC Board Member), Jim Katz, Kelsang Lhamo, Geshe Thupten Jinpa (Institute of Tibetan Classics), Marcus Perman (Tsadra Foundation), Karma Gongde, Dechen Pema and Chungdak Nangpa. BDRC headquarters, Feb 22, 2019. 
The discerning reader will notice that cataloger initials are encoded within the work number. For instance, Head Librarian Karma Gongde catalogued the Narthang Tengyur (W2KG5015) in the collection of the Central Institute of Higher Tibetan Studies. Kelsang Lhamo (Chozin) catalogued The Treasure Texts of Terdak Lingpa (W4CZ1042) from the 18th century. Chungdak Nangpa catalogued The Great Treasury of Wishfulling Jewels of Drukpa Kagyu Teachings (W3CN2232), a complete collection of Drukpa Kagyu texts published in Nangchen, Kham. And Lobsang Shastri catalogued A Brief Biography of Ju Mipham (W8LS20744) written by Dilgo Khyentse Rinpoche.
Indeed some of our users already know our librarians personally and have relied on their expertise for assistance with research. For others, here is a closer look at BDRC's librarians.
Karma Gongde, BDRC's Head Librarian, is the second longest-serving librarian at BDRC, having joined in 2007 after working with the Asian Classics Input Project. Karma studied Buddhist philosophy and Tibetan language at the Central Institute of Higher Tibetan Studies in India, and later taught there. He said of his work at BDRC, "I am able to stay connected to Tibetan literature and culture. I am able to use what I have learned. I feel joyful about the work that I do. This work is useful and valuable; we are preserving our culture and language."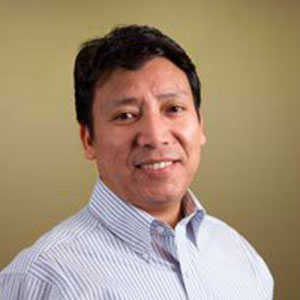 Karma Gongde, Head Librarian
In his spare time, he enjoys reading history and namthar, the Tibetan biographies of great lamas and saints which are also guides to enlightenment. He downloads the majority of his texts from the BDRC site, because they are generally not available in print. He said, "Each time you read a namthar, you find a path to follow."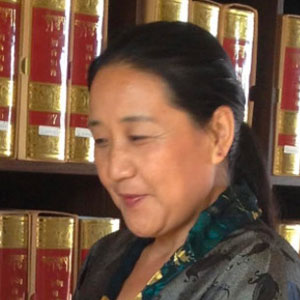 Kelsang Lhamo, Senior Librarian
Introduced to Gene by Tashi Tsering Josayma and Alak Zenkar Rinpoche, Kelsang Lhamo was hired as TBRC's first librarian. Starting in 2001, at the age of 28, she has become the longest serving staff and the institutional memory of BDRC. "BDRC is my home," she said. "It's not work, it's an education." Kelsang Lhamo, who is a distinguished writer, has just finished writing a biography of Gene. Gene was her teacher. Kelsang spent nine years in retreat in India meditating and studying Tibetan texts but working under Gene Smith would prove to be her real education. 
Reading the texts, creating catalogs, and listening to Gene every day exposed her to teachings from all the Tibetan Buddhist traditions. She said, "Gene la used to quote the scholar Gendun Chopel and say: 'Where Tibetan texts survive, Tibetan literature and culture will also survive. That's why we have to be so careful with our work, because it's essential.'"
Chungdak joined the BDRC team in 2009. Chungdak, who came from central Tibet, taught Tibetan Buddhist history for many years at the Nationalities University in Beijing as well as at the China Advanced Institute of Tibetan Buddhism. Many of his former students from the Advanced Institute are now heads of monasteries across the Tibetan plateau. Chungdak also speaks of BDRC's work as essential, "Our work saves the essence of Tibetan culture. We are saving the texts, the dharma."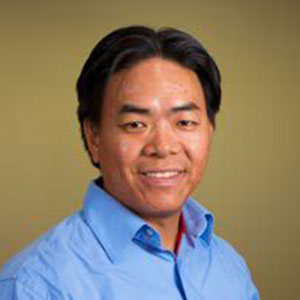 Chungdak Nangpa, Senior Librarian
The first major outline that Gene asked him to create was for the action tantra work "Presentation of Kriya Tantra" written by Bodong Panchen Chokle Namgyal in the 15th century. Gene told him that these texts would teach him the structure of the action tantra system, a system that Chungdak came to realize had as many as ten structural levels.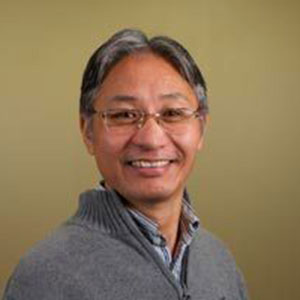 Lobsang Shastri, Senior Librarian
Before TBRC, Lobsang Shastri had spent his whole career at the Library of Tibetan Works and Archives in Dharamsala. Working first on oral history and translation, he then moved to the Tibetan Manuscript Department and became its Chief Librarian. Conscious of the need to write down history before it's lost, Lobsang wrote The Local History of Ruthok, to textually preserve local knowledge that had only ever been transmitted orally before. He has also authored three manuscript catalogue books, about history, hagiography, and medicine and astrology.
Lobsang, who had moved from a physical library to a digital library, marveled at the far greater reach of a digital library. "People used to have to go book hunting for texts in India and Tibet, now they can just sit at home and browse these texts. People used to have to read the whole book, now they can just read our outlines and find what they are looking for," he said.
When the Tibetan Buddhist Resource Center relocated from New York City back to Boston, Massachusetts, its first home, all four of our librarians chose to remain with the organization and moved their families to Boston. We are grateful to them for their dedication.