Search Me!
March 03, 2021
New Enhancements to BUDA's Search Function Make Finding What You Want Even Easier
Search is how most of our users interact with our library and database. As fast and intuitive as the search on BUDA is, we continue to refine and improve it in order to offer our users the most seamless search experience.  So we are happy to share the news that BUDA's search has been updated with three useful new features, developed based on feedback from our users.
Looking for a Date?
Tibetan authors often have multiple names and titles over the course of their lives, with each of them having many different variants. Therefore, proper identification of a person or text or place can sometimes be difficult and puzzling even for the seasoned Tibetanist. For example, the 19th-century polymath Kongtrul's primary name is Jamgon Kongtrul Lodro Taye but we list almost twenty names for him, and this is not an exhaustive list. Although we strive to record as many of the variant names as possible, our database is not comprehensive and not all the variants are recorded in our database. Because of these variants, we have now made it possible to search by date; knowing the year of birth or death for an author can help return more accurate search results. Additionally, searching our database for any year will show you all the events associated with that year. Here are a few examples:
The birth year of a person.

The publication year of a text.

The year a monastery was founded.
See, for instance, all the persons with an event recorded in 1747. You can also sort results by type of event in the "relation type" facet on the left of the search results page.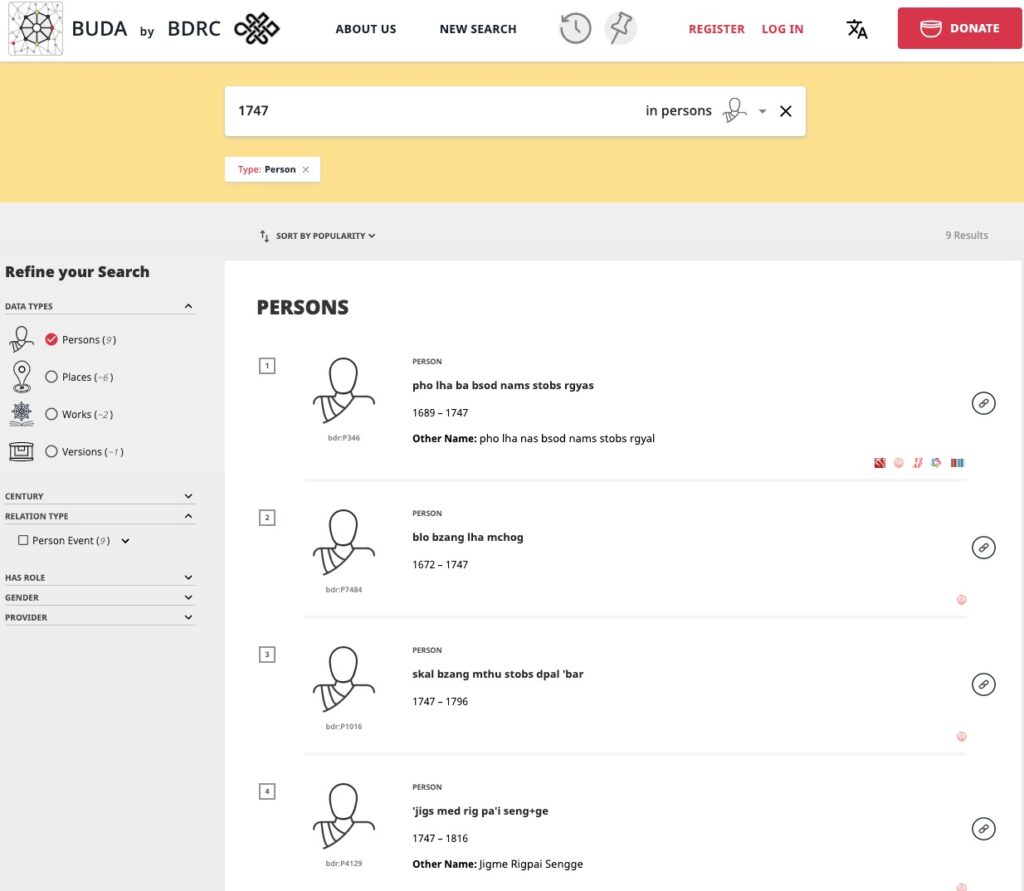 Note that this will only trigger a search in the date fields, not a search in the notes, so in some cases it is still useful to search for the date in English or Tibetan.
Using the Logical AND to Enhance Your Search
Most of the time you need to search the BDRC database for a single text title, proper noun, or phrase. To accommodate this the default search logic is that all the components (syllables for Tibetan) of the user input must be found in sequence in the result. In these cases, the search engine is essentially looking for data in which the components of your search string occur very close to one another, while intelligently overlooking certain grammatical particles and other syllables. But what if you want to find a title or a passage in an e-text that contains two distinct phrases, whether they occur close to each other or not?
For this purpose, we've introduced the AND keyword in the search bar. It allows users to indicate that all the phrases separated by this keyword must appear in a search result, but can appear in any order and at any place in the result. For instance, compare the search results on mtshan nyid theg pa gsar ma (0 result) and on mtshan nyid theg pa AND gsar ma (40 results, where the two phrases are often apart).
Finding IDs
If you are working with texts that have a well-known identifier such as an ISBN code, you can search for this (usually short) ID directly instead of typing the (usually long) title. Just select the "find as an identifier" search option! Unlike the search on titles, the search on ID must be exact so it's necessary to know the format of the identifiers used in our database in order to find them properly. For instance you can find:
Note that a Version is just a specific representation of a Work. This includes physical instances of a text (modern editions, block prints, manuscripts, etc.) as well as digital ones (e-texts, and scans).
With these improvements, we hope your searching will be easier, faster, and more accurate. As always, we welcome feedback. Get in touch with us through the Contact page on our website.