Tibetan Treasures from the National Library of Mongolia
December 17, 2020
Even as BDRC builds on Gene's legacy and expands its holdings from Tibetan into Sanskrit, Nepalese, Chinese, Khmer, Pali and Burmese, the heart of our ever-expanding library remains our Tibetan texts. And for our many users who are primarily interested in Tibetan materials—researchers, scholars, monks and nuns, translators and practitioners from all over the world—our ongoing project with the Asian Classics Input Project to digitize the Tibetan collection of the National Library of Mongolia has yielded a windfall of Tibetan treasures. Gene, who started out studying Mongolian with Nicholas Poppe before transitioning to Tibetan with Turrell Wylie, would have been delighted with all these Tibetan materials finding their way into our library via Mongolia's.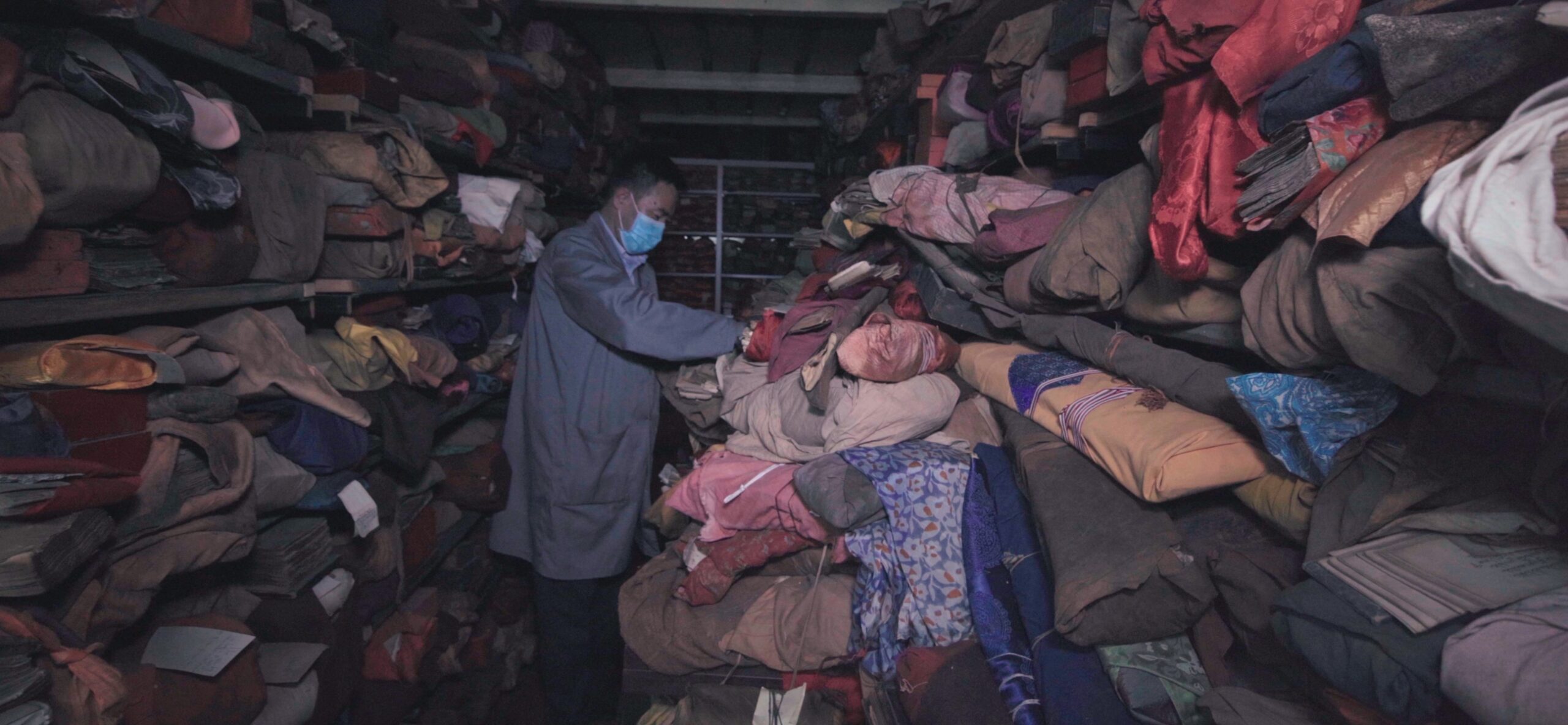 With such a large collection, resources to support the proper storage and organization of texts are stretched thin, making the BDRC-ACIP digitization project especially urgent.
The National Library of Mongolia, founded in 1921 as The Institute of Sutras and Scripts, is Mongolia's oldest and largest library, and entrusted with the mandate to preserve Mongolian national written heritage. As Tibetan was a liturgical language of Mongolia, the Library's largest holdings are its Tibetan Manuscript Collections. Coming from the private collection of the last Khan as well as from members of the public who had saved these sacred texts from the Communist purges, the Library's Tibetan Collections contain many rare and precious works of cultural heritage. In 2011, the Library's Mongolian Tanjur, a large collection of over 3,427 commentaries on Buddhist texts created by Indian and Tibetan masters, was included in UNESCO's Memory of the World Register.
Thanks to support from Khyentse Foundation, and working in collaboration with the National Library's dedicated staff headed by Library Director Ichinkhorloo Bayarkhuu, BDRC and ACIP have already digitized 2,922 volumes and catalogued 5,297 volumes. As part of the digitization process, the Library staff are creating a complete catalog of the Tibetan collection for the first time. Additionally, each text is cleaned, wrapped in a fresh cloth, and neatly organized on shelves to aid future retrieval by researchers and librarians. In these ways, this digitization initiative goes far beyond digital archiving, with the National Library transforming its physical collection of Tibetan texts.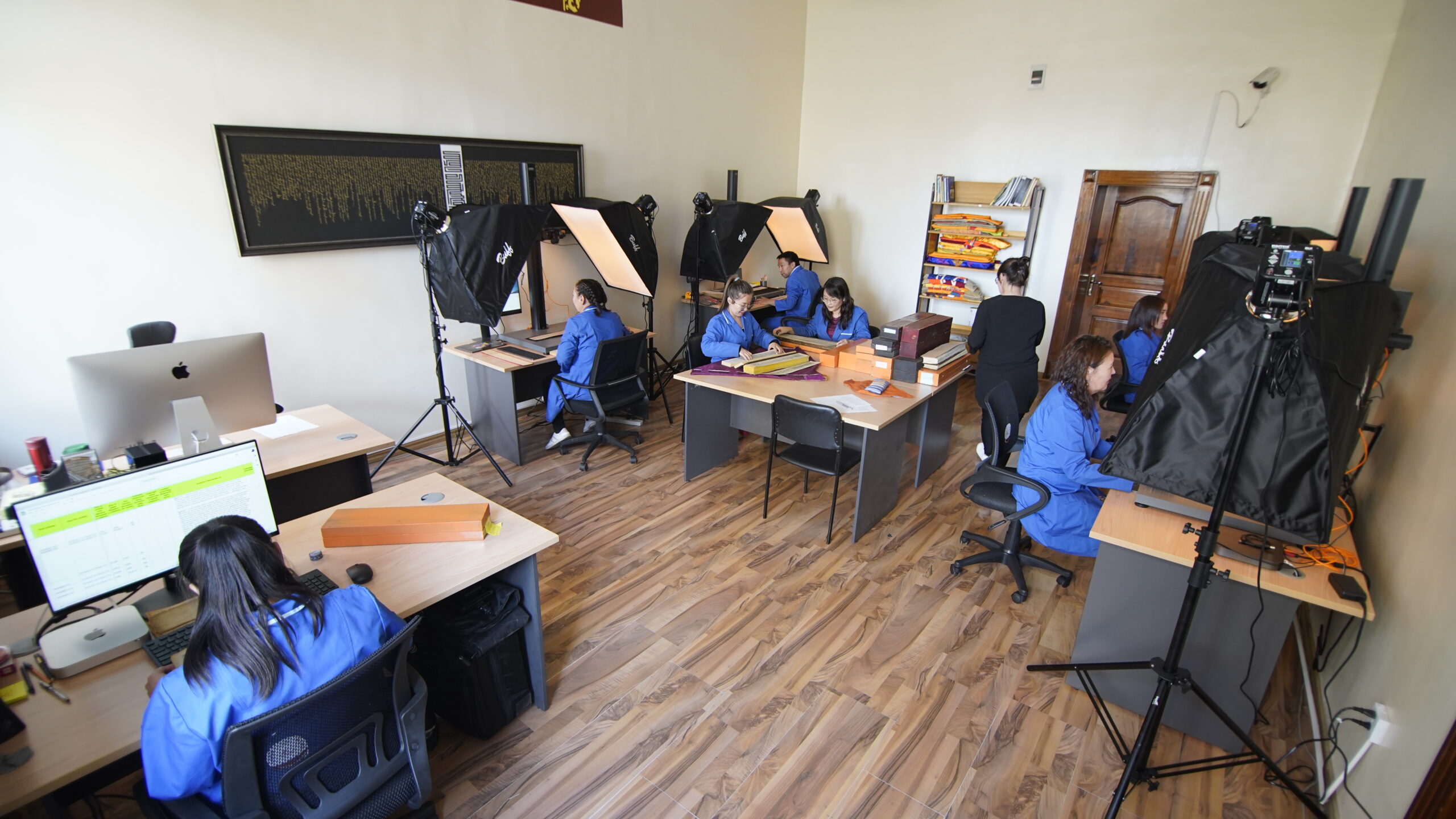 The National Library's dedicated staff, headed by Library Director Ichinkhorloo Bayarkhuu, have already digitized 2,922 volumes and catalogued 5,297 volumes, making these precious resources accessible to all through BDRC's library.
Among these are many noteworthy texts, some of which can answer questions that occupy both researchers and practitioners. One fascinating example is a root text of the Guhyasamaja Tantra published by Peking Printery. The reviewer of this Guhyasamaja Tantra, which is a translation from a Sanskrit text, was none other than Je Tsongkhapa (b.1357), one of the principal founders of the Geluk tradition. The question of whether or not Tsongkhapa knew Sanskrit is a major point of contention among scholars, with no definitive proof one way or another. But the existence of this text from the National Library of Mongolia complicates that debate—presumably Master Tsongkhapa would have to know Sanskrit to review and revise this translation. This text was recently scanned and uploaded to BDRC's library. It's a small example of how our work, which is so integral to our users' practices, can also help illuminate the history of Buddhism in Inner Asia.

As noted on this page shown above, Tsongkhapa edited and reviewed this Guhyasamaja Tantra (དཔལ་གསང་བ་འདུས་པའི་ཙ་རྒྱུད༏) at Drok Riwoche Ganden Nampar Gyelwai Ling, meaning Ganden Monastery. BDRC Resource ID: W1NLM1940.  
Your support can help us continue to digitize, catalogue and make accessible all Tibetan manuscripts and woodblock prints held at the National Library, among which are many notable texts from Eastern Tibet. Individual donations help us preserve and share Buddhist literature with the world. Every year, people use BDRC's library hundreds of thousands of times in order to access the treasures of Buddhist literature. Our founder Gene Smith would be proud to see the impact BDRC has every day on the lives of thousands of people. Your donation will help us continue this important work. To make a donation, please visit: https://www.bdrc.io/donation/.